ze05 – residential estate Zelterstraße, Berlin, Germany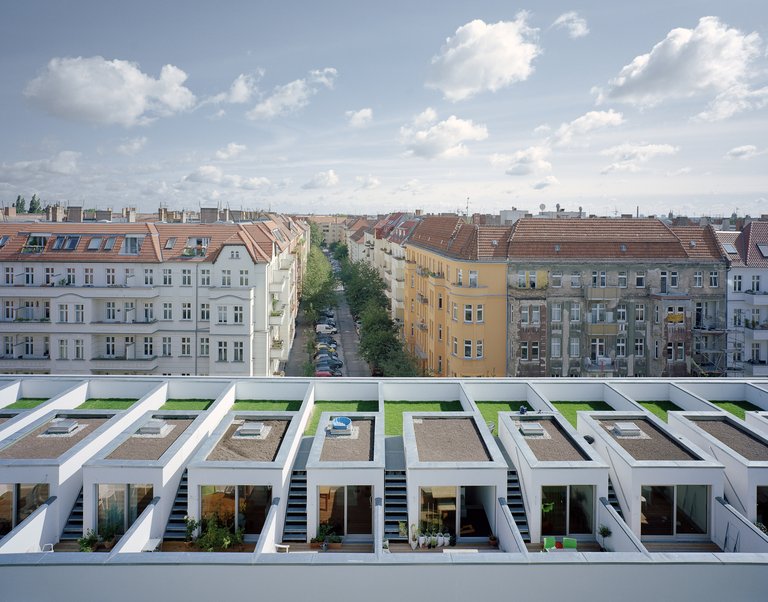 The property is surrounded by 22 m high walls on two and a half sides. The street façade faces north and a listed church flanks one side. Responding to the difficult conditions, three different typologies were developed with unmistakable characteristics. The street-side townhouse construction is only 4 storeys high, to prevent overshadowing the threestorey firewall garden houses and garden. The garden is raised to the 1st floor level for additional light, with the garage beneath it. Three-storey penthouses with fine views and double-oriented top floors dominate above.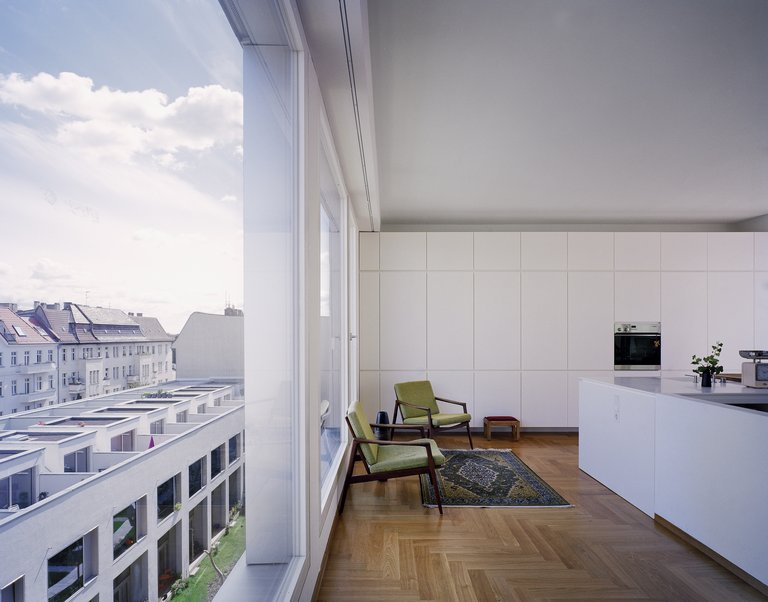 The two-row apartment building closes the block perimeter and consists of 45 individual homes, each with singlefamily home characteristics.
Townhouses
23 townhouses along the street have separate front entrances and rear parking access. With a breadth of mainly 3.65 m, the four floors have split-level organisation, with a 4.20 m kitchen/living room, direct garden access, a visually shielded roof terrace and a roof garden.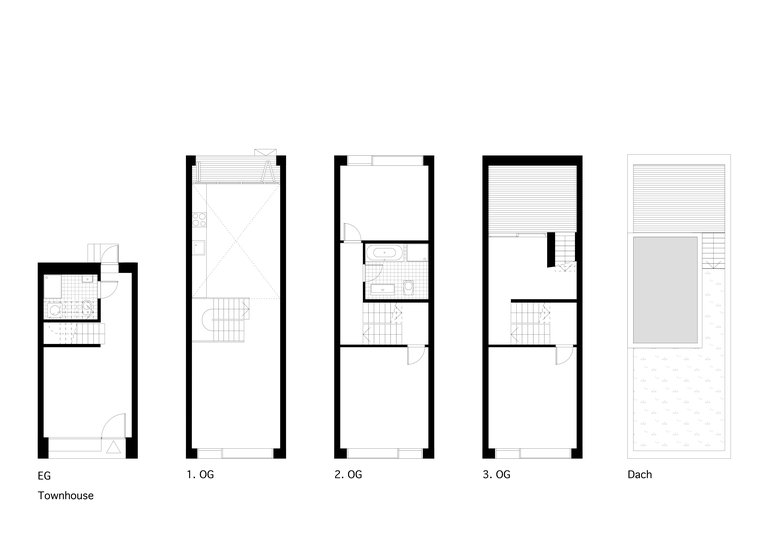 Garden house
Direct garden access provides interior light and individual rear entrances. 10 three-storey garden houses have
strikingly large room areas and heights, loggias, balconies and split-level organisation.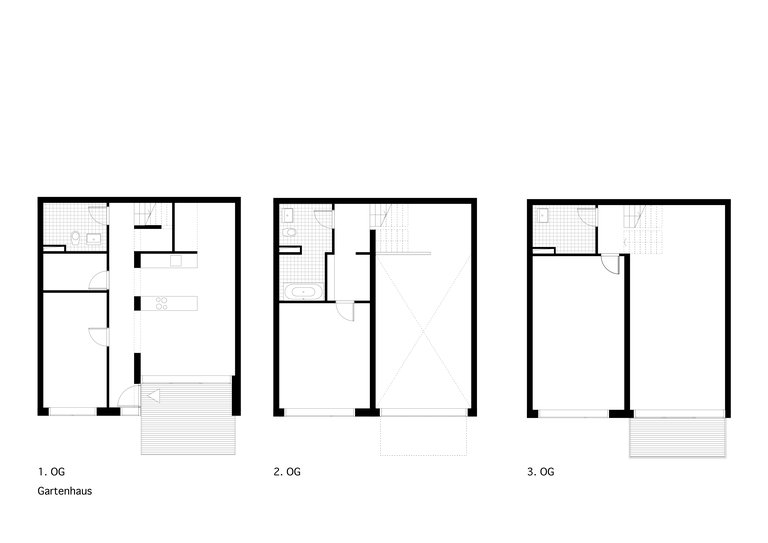 Penthouse
Above the garden houses, 12 three-storey penthouses are double-oriented on the top floor. From visually shielded patios, they have direct access to roof terraces with city views.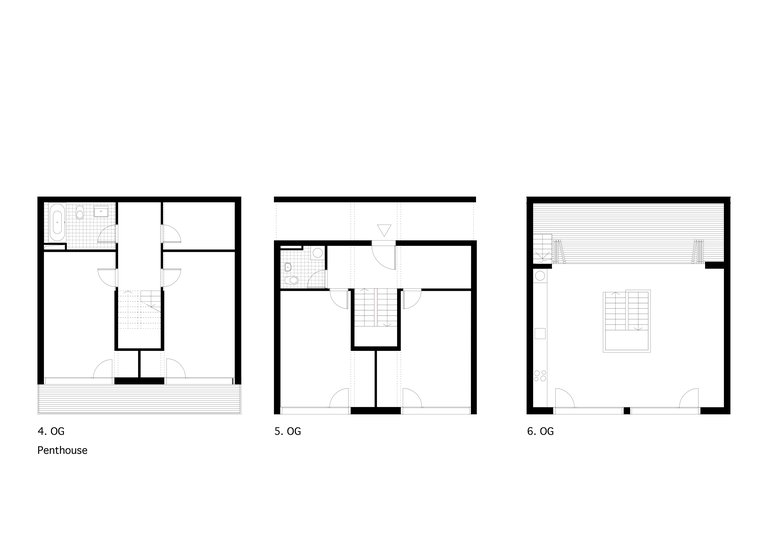 Community – Privacy - City
The advantages of one's own home, combined with the density of a residential estate, give new significance to the aspect of community. The development reflects precisely that combination of community and privacy. The buildings have several entrances providing independent access, while paths in the courtyard, lobby, garage and street repeatedly overlap. The project's size allowed a series of communal facilities. Highlights include the 1,300 m2 communal yard, which is not divided into individual gardens, the 250 m2 common roof terrace with views of Berlin and cooking facilities, the sauna and four guest apartments. The car-free garden, the narrow modular grid and separate, yet overlapping access give the project's uses a villagelike character. The town houses open out towards the street – and the city – each with shop windows in one room, allowing use by small businesses or providing as much insight into the interior life as the residents wish.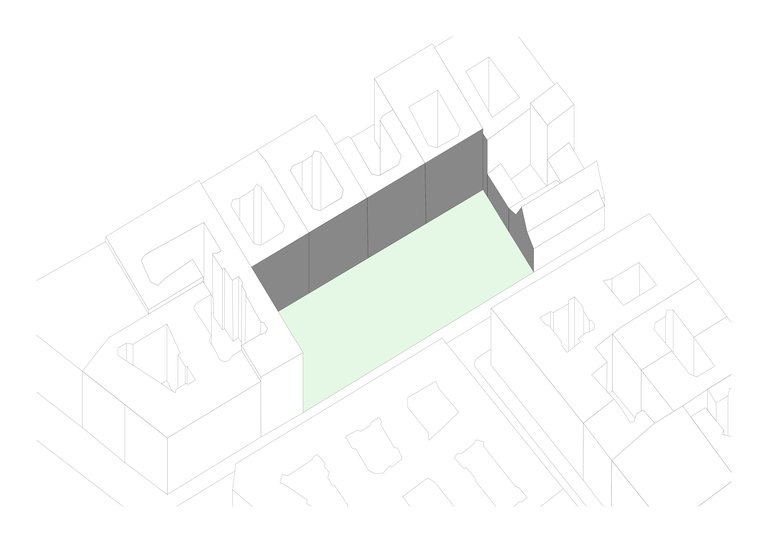 Construction time / duration

2007 - 2010

Project type

Multi-level apartment building

Client

Bauherrengemeinschaft Zelterstraße 5-11

Architects

zanderroth gmbh

Project Development

SmartHoming GmbH

Planning experts

Structural planning:
Ingenieurbuero Leipold, Berlin

Building service:
Ingenieurbuero Luettgens, Berlin

Landscape design:
friedburg & Co., Berlin

Technical data

Gross floor area: 9,100 m²

Residential floor area: 6,624 m²

Residential units: 45

Awards

Deutscher Bauherrenpreis 2014

Best Architects 2014, Award

Deutscher Landschaftsarchitekturpreis 2013 - Sonderpreis Wohnfreiraum

Architekturpreis Berlin 2013, 1st price

BDA Preis Berlin, 2012

Deutscher Architekturpreis 2011, Auszeichnung, Honorable Mention

Ugo Rivolta European Architectural Award 2011