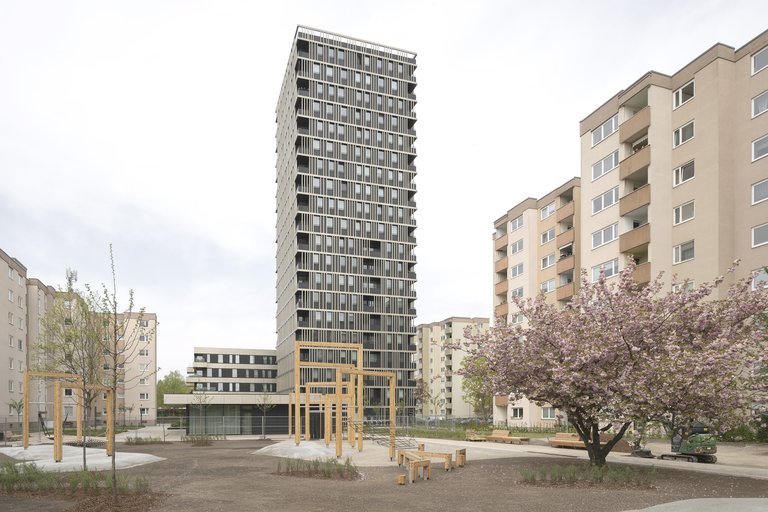 With their design for a residential tower at Theodor-Loos-Weg in Gropiusstadt, Eike Becker_Architekten won first prize at a competition tendered by the Beamten-Wohnungs-Verein zu Berlin eG cooperative, marking the office's first cooperative project. The new building adopts the architectural language of the surrounding high-rise district erected in the 1970s and translates it into modern times.
Gropius' original plans envisaged the integration of smaller buildings into the high-rise district, and EB_A's design has incorporated this idea by connecting a townhouse to the high-rise building through a shared plinth. The new tower will offer concierge services as well as designated areas for community events. A generous foyer will provide a communal space to connect new residents with longstanding community members. The geometric superposition of the two four-story buildings and the 20-story high-rise building will allow for a skillful integration of the building into existing structures.
Vertical densification
Large settlements such as Gropiusstadt, Märkisches Viertel or Marzahn-Hellersdorf were once conceived as signs of modernity a new beginnings. Architects and urban planners had set high goals for themselves: affordable rents and a quiet life in green surroundings. But high rise builds eventually became synonymous with unsuccessful social housing projects. In view of the lack of building land and an increasingly acute housing shortage, highrises are currenlty being rediscovered because they create ample living space on a comparatively small footprint. Today, 40 percent of Berliners would build more high rises, according to a recent survey conducted by the polling institute Statista.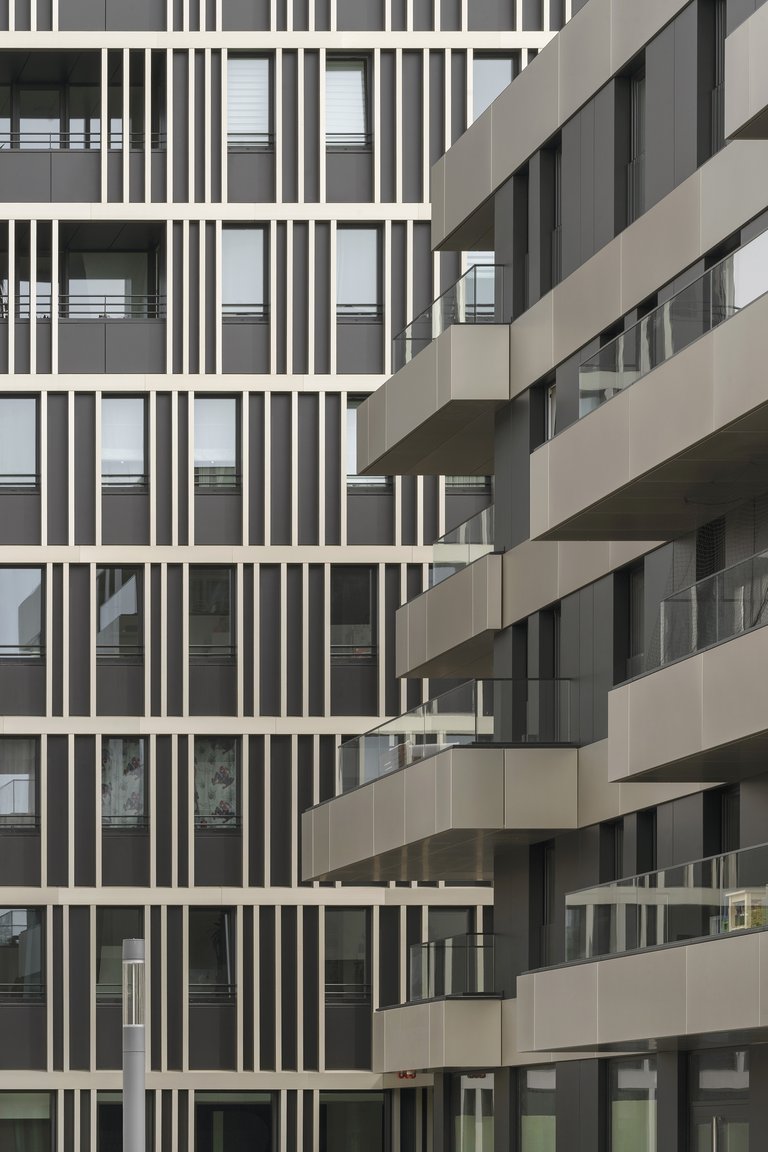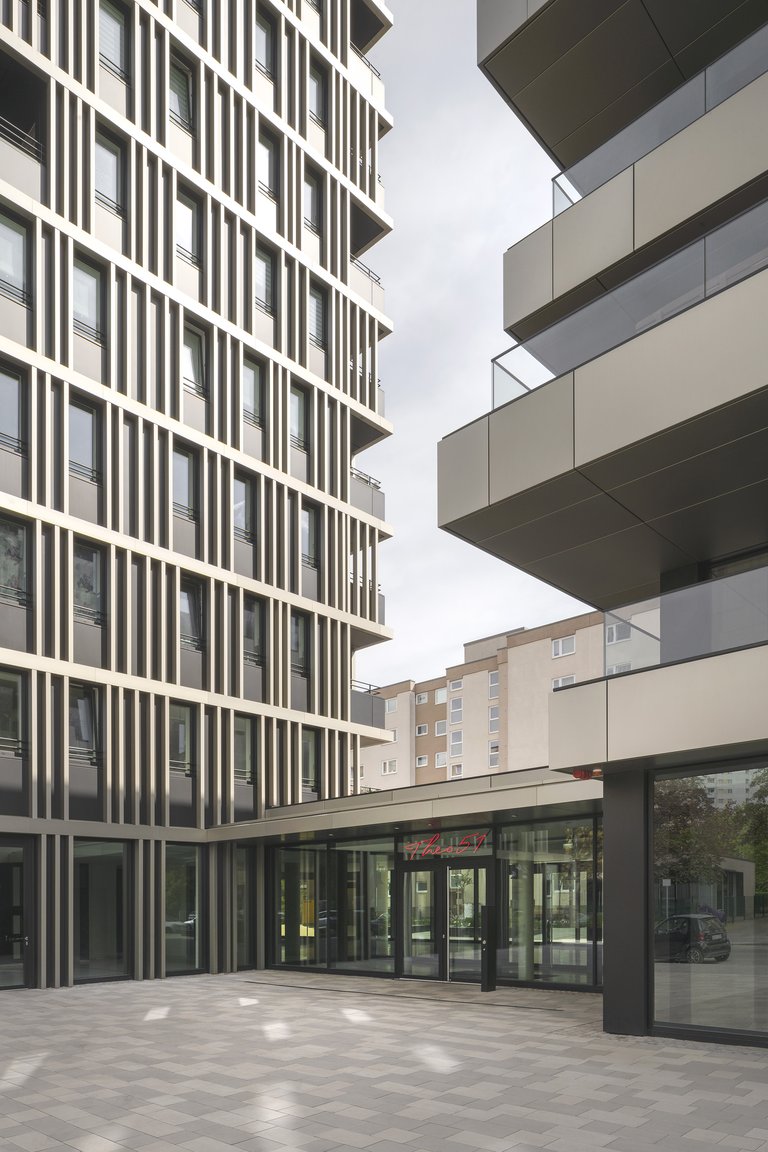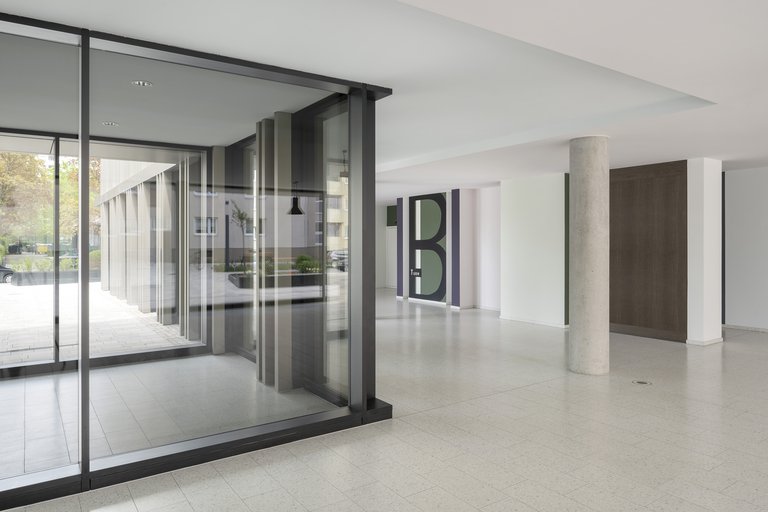 Construction time / duration

2016-2019

Architects

Eike Becker_Architekten

Planning experts

Façade planning:
IMW Ingenieurbüro für Fassadentechnik Michael Walzer

Fire protection:
hhpberlin Ingenieure für Brandschutz

Building services:
Plan B

Structural planning:
Ingenieurbüro Rüdiger Jockwer

Project management:
Kondius AG

Landscape design:
sinai

Excavations planning:
Horner und Ingenieure

Construction physics:
Genest & Partner