Pier 61|64 – East Side Gallery, Berlin, Germany
The nine-storey building planned by the architectural office Eller + Eller Architekten GmbH faces the Spree along its entire length as a geometric solitaire. The location on the river, the East Side Park, the East Side Gallery and the neighbouring residential tower significantly determine the architecture.
| | |
| --- | --- |
| What makes this building project special? | Clarity in the architectural language / Determination in the implementation and courage to build in a special place like this / Logistically tight location directly on the Spree / Static foundation directly on the bank of the Spree / Partial supply of building materials from the water and storage on a ship / New landmark for young cosmopolitan Berlin. |
Already planned in 2013, the construction project at Mühlenstraße 61-64 in Berlin-Friedrichshain is now taking concrete shape: The Berlin-based investment and project development company Trockland has just signed contracts with international investors to develop the property, which is located directly on the banks of the Spree and the world-famous East Side Gallery. Under the name "Pier 61|64", a striking building with a mixed use of hotel, gastronomy and rental flats is being built in a prominent location. Trockland is taking over the project with an existing building permit for this location. Construction will start in early 2018 and the project is scheduled for completion in 2022 / 2023.
At this exposed and special location, plasticity and liveliness are to be created through a visual haptic of the façade. Loggias are arranged like boxes in different widths and heights - with projections and recesses - creating additional free space for the residents. Floor-to-ceiling windows facing south and glass balustrades ensure transparency and allow unobstructed views of the Spree - from the Jannowitzbrücke to the Oberbaumbrücke, a landmark for young cosmopolitan Berlin.
On a gross floor area of approximately 23,000 square metres, a hotel with 167 rooms will be built in the western half of the building and between 60 and 70 rental flats in the eastern half. These have different sizes from one to five rooms and are partly designed as maisonettes. The special feature of the large flats is their "pierced" arrangement through the building structure from the north in Mühlenstraße to the south and thus to the Spree. The design of the building is conceived from the inside out, thus enabling multi-layered living situations.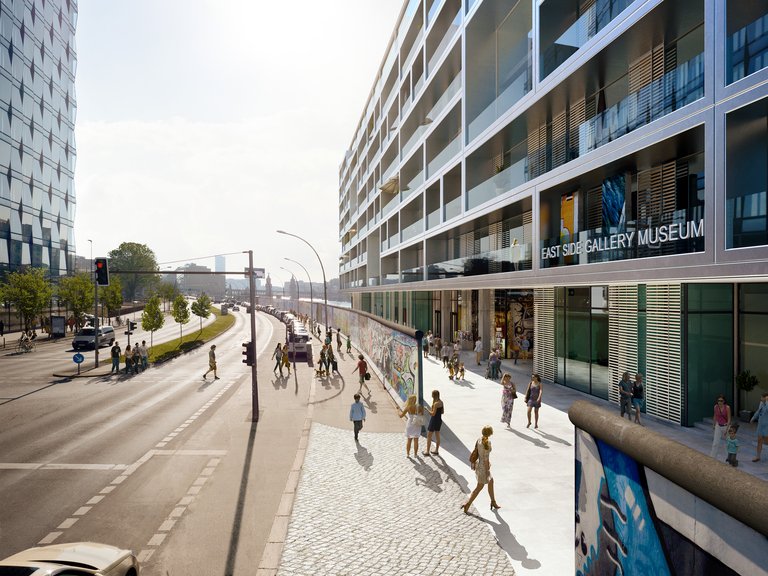 Project type

Housing, hotel and restaurant building

Client

Trockland Management GmbH

Architect

Eller + Eller Architekten GmbH

Planning experts

Planning of the excavation pit:
Planungsgesellschaft für Ingenieurbau GmbH

Tendering/contracting/construction:
IKR Ingenieurbüro für Bauwesen Kuschel GmbH

Heat insulation:
Ingenieurbüro für Bauphysik und Baukonstruktion GmbH

Sound insulation:
Ritter Bauphysik GmbH

Fire Protection:
imKONTEXT.berlin GmbH

Handling/elevator planning:
EiSat GmbH Ing. Büro Wieczorreck Materials

TGA:
kmp ingenieurgesellschaft mbH