"Keep it simple, keep it smart" is the motto that best describes the BIM approach. It enables the complexity of a building (in terms of planning, construction and operation) to be optimally designed and mapped as transparently and simply as possible. Individually managed lists are replaced by a model-based data set with integrated database information that is visible to all, planning and construction are designed as an interdisciplinary team task, and a digital twin in various levels of detail is made possible as an output. The advantages are obvious:
- Consistency of all data as a single source of truth (SSOT).
- Improved communication between those involved
- Improvement of schedule and cost security
- Transfer of an up-to-date digital model to facility management
- Data basis for a building passport that enables the optimal recycling of materials and products.
---
A highly networked, collaborative and integral way of working in complex projects is crucial for project success.
The Felix Platter Hospital in Basel, realised by wörner traxler richter, is Switzerland's largest centre for university geriatric medicine and rehabilitation, with 280 beds including a private ward. In 2018, the new building is one of the few construction projects in the hospital scene that calls for the BIM planning method throughout, an interdisciplinary pioneering work. The project has already won three BIM awards: the Special BIM Award of the Heinze ArchitektenAWARD 2019, the BIM Award 2016 from the BIM Cluster Stuttgart in the Processes & Organisation category and the buildingSMART bSI Award 2016 in the Operation & Maintenance category.
---
The opinion is often held that only fixed, almost bureaucratic BIM rules from the beginning open up the chance for a successful BIM project. BIM can quickly become an end in itself and the building to be planned can fade into the background as a success. This must be avoided. With the New Office Düsseldorf, the building was always in the foreground, and BIM was a successful means to an end.
It was also possible to let the team gradually grow into better and better skills, to adapt and use these means optimally. So it was not a matter of a bureaucratically prescribed set of rules, but of trained skills. Of course, this is only possible on the basis of a cooperative attitude of all participants that allows for learning and practice. It was therefore necessary to find the right balance between fixed and free rules. (Excerpt from Build-Ing. 4/2018)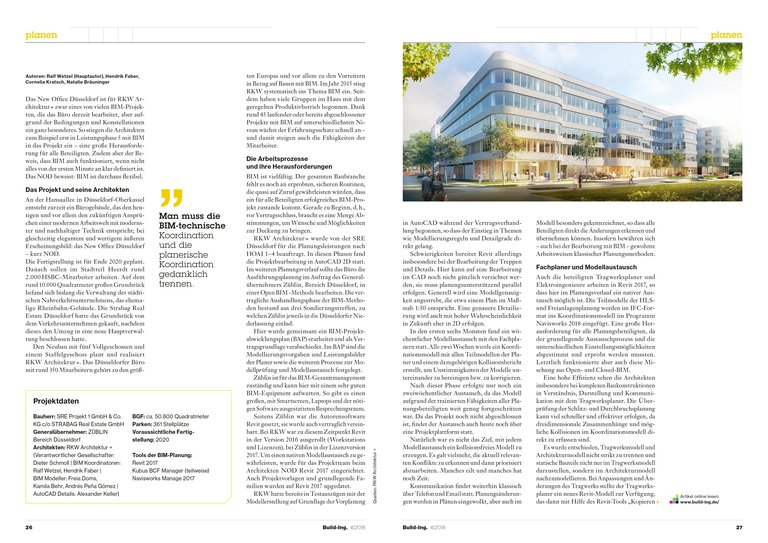 BIM Practice Talk with Karsten Kus, Project Manager Architecture and the Head of the Digital Methodology Department, Ralf Wetzel, about their experiences with BIM. (in German)