Moringa, Hamburg, Germany
An ensemble of three buildings arranged around a green central courtyard is being developed on the northern bank of Baaken Harbour in the Elbbrücken Quarter of HafenCity Hamburg. Based on the cradle-to-cradle principle, the building is being assembled with recyclable and non-toxic materials that can be dismantled separately and reused at the end of the life cycle. All in all, the area created by horizontal and vertical greenery is larger than the building's footprint. The green facade cools and conditions the air, produces oxygen and contributes towards the biodiversity in the city, characterises the residents' urban realm and enhances the building's design. In addition to being used as retention space and generate renewable energy, the horizontal areas are intended as exterior zones for private and communal use, for recreational purposes, urban farming, working and communication. The purely tenant-occupied property with variable floor plans and one third subsidized units is designed to accommodate people from different social backgrounds. The building incorporates co-living and co-working space, communal areas, such as kitchens and multi-purpose rooms, which can be booked via an app, a children's day-care centre and a variety of exterior space on terraces, balconies and in the courtyard.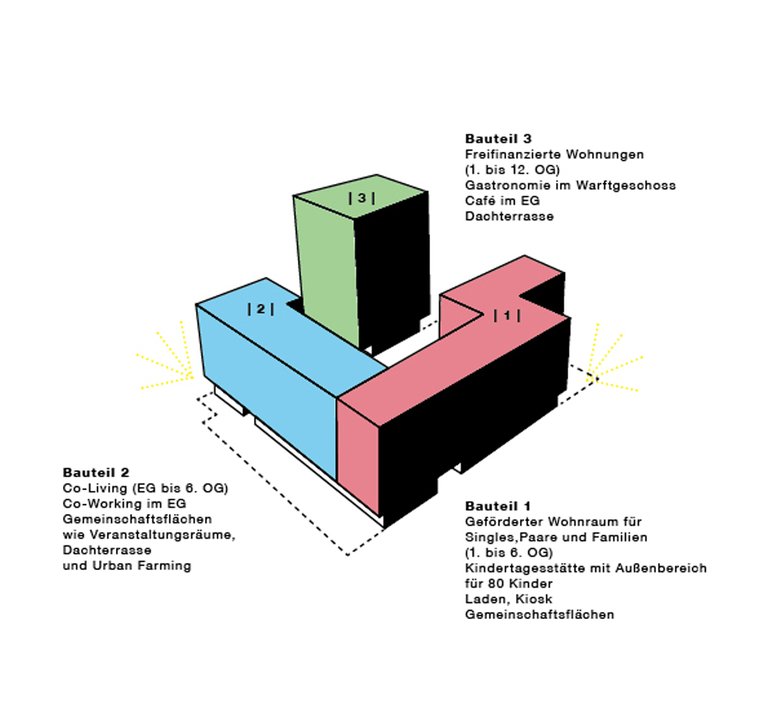 The mixed use of the building is an important aspect concerning the development of a lively quarter. In addition to the children's day-care centre at ground floor and basement level, the building also includes catering facilities, retail units, as well as event and co-working space.
Module 1
Government-funded units for singles, couples and families (floors 1 to 6)
Children's day-care centre with outdoor area for 80 children
Retail unit, kiosk
Communal areas
Module 2
Co-living space (floors 0 to 6)
Co-working space on ground floor
Communal areas
Event space
Roof terrace and urban farming facilities
Module 3
Private residential units (floors 1 to 12)
Catering facilities in semi basement
Café on ground floor
Roof terrace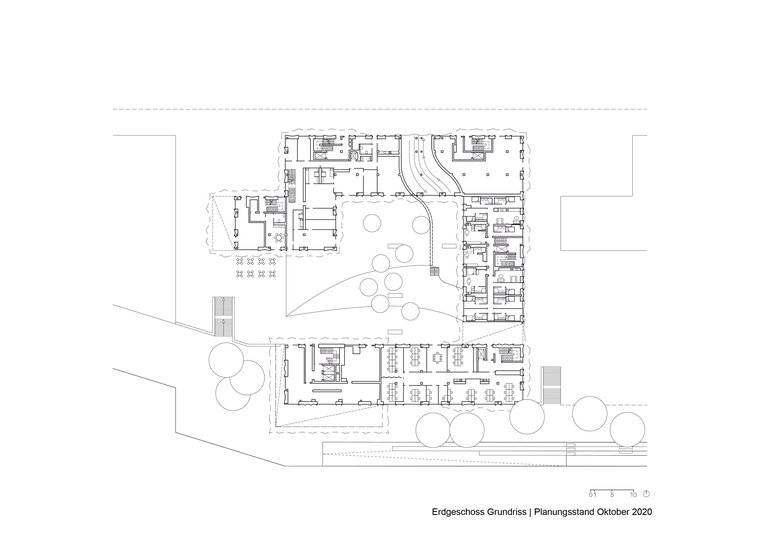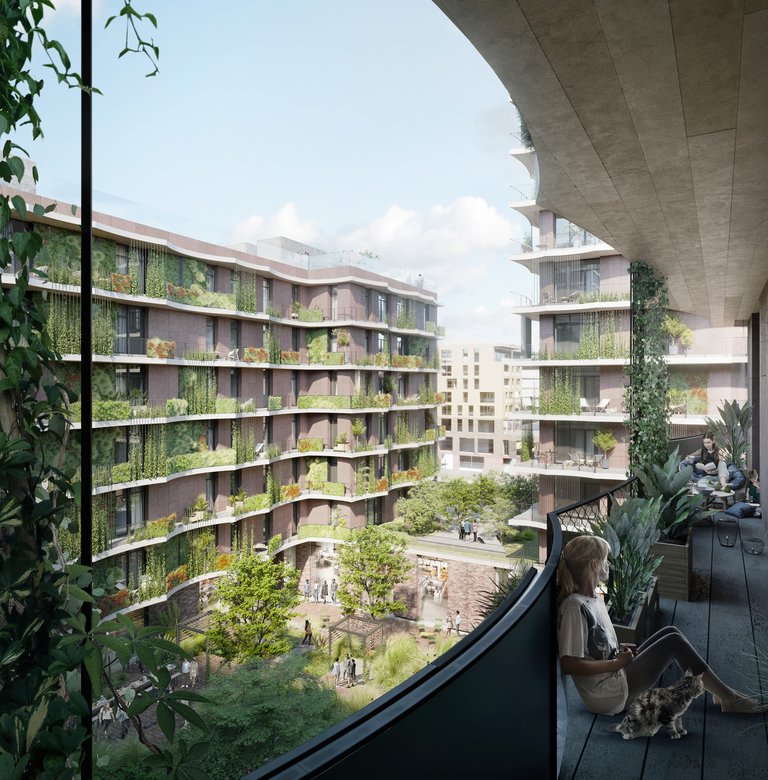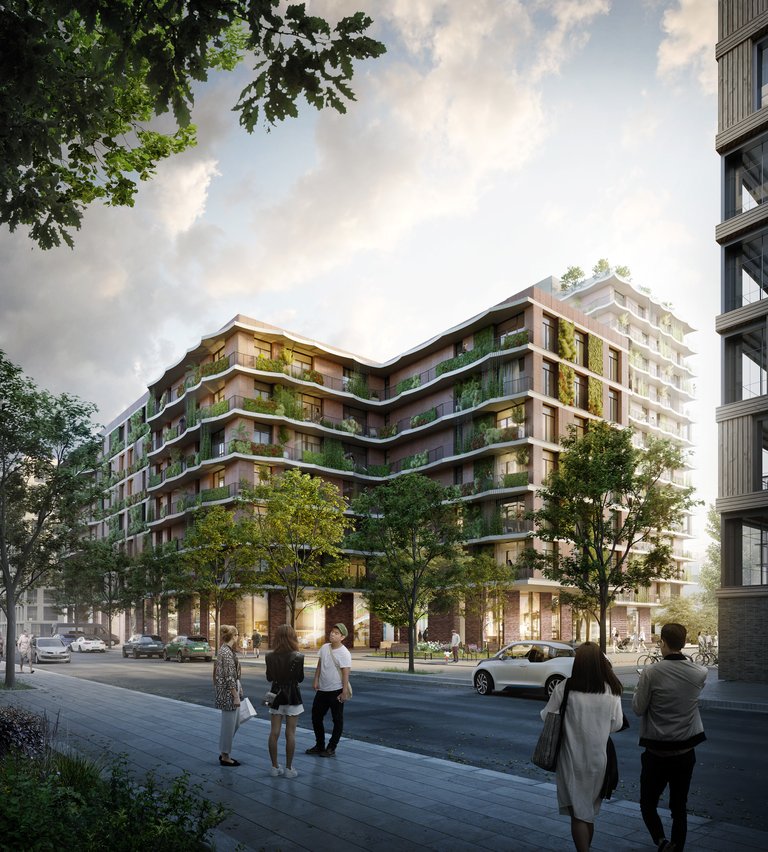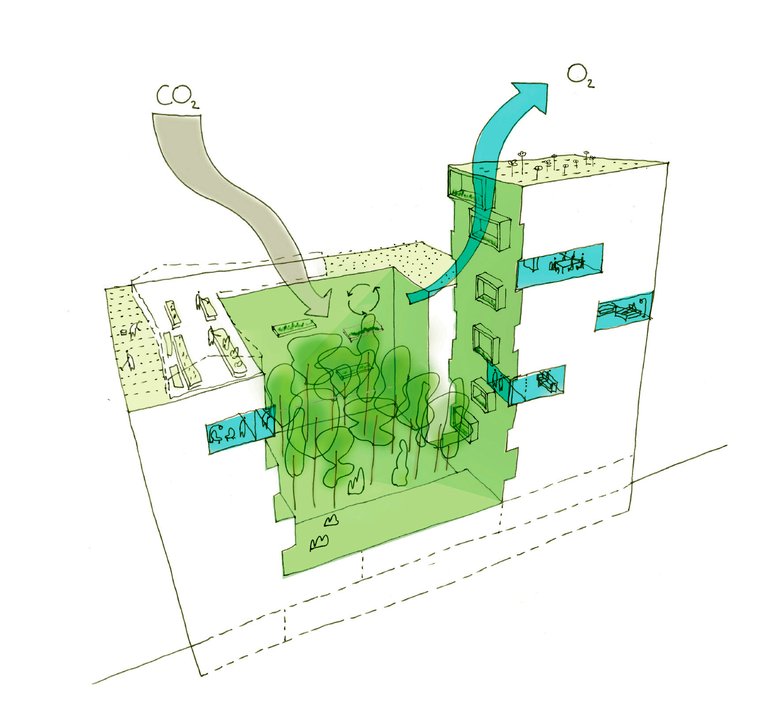 More than 100% of Moringa's footprint is returned to nature through the implementation of green facades and rooftop terraces. The vegetation functions as a "green lung" within the quarter by producing oxygen, reducing particulate matter, binding carbon dioxide and nitrogen, as well as cooling the microclimate in summer. Moreover, it provides a habitat for a variety of animals, increases biodiversity in the urban realm and creates a retreat where residents and neighbours can relax and recharge.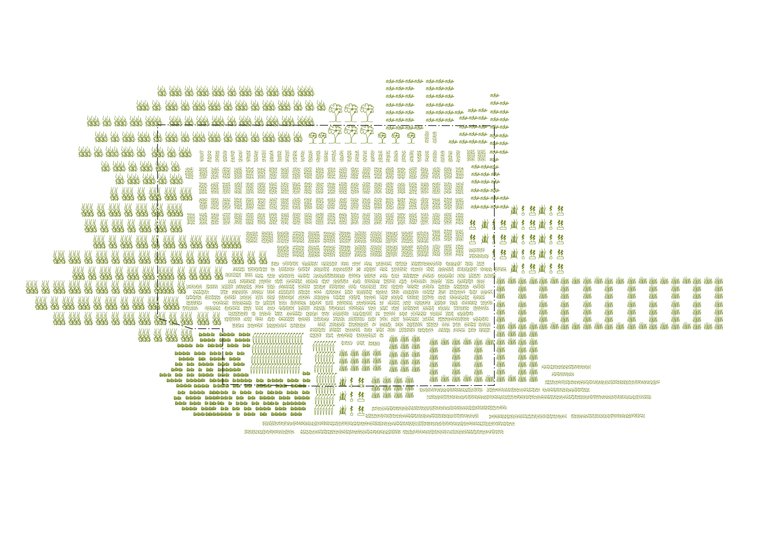 Buildings as material banks
The aim to achieve a non-destructive deconstruction of more than 50% of at least three component groups and ensure the clean separation and recycling of building layers is designed to bring about a long overdue change of paradigm: we need to turn construction into a closed-loop supply chain system, which considers buildings as material banks. Instead of producing waste and removal costs, the objective should be to generate added value and protect resources. Based on the urban mining concept, buildings must be considered as material banks and material cycles must be closed.
The goal of MORINGA is to realize a C2C-inspired building in Hamburg's HafenCity and thus MORINGA is developed as a sustainable building of the next generation. This means that the aspiration of this building goes beyond the classical sustainable way of thinking, which aims to reduce negative impacts. MORINGA creates added value for users, surroundings/neighborhood as well as an economic benefit. The concept of an extended sustainability is characterized by an interconnectedness of architecture, people, flexibility as well as endless use of resources and raw materials in the sense of Cradle to Cradle - to create an inspiring, future-oriented and circular building.
The project should at least meet the HafenCity Hamburg GmbH platinum standard for sustainable construction ("Umweltzeichen HafenCity").
Completion

2024

Project type

Residential building with commercial part, Co-Working- Co-Living

Client

Moringa GmbH by Landmarken

Architects

kadawittfeldarchitektur

Planning experts

Circular Engineering / Façade planning:
Drees&Sommer Advances Building Technology GmbH / EPEA GmbH - Part of Drees & Sommer

Cradle to Cradle Mentoring:
C2C Expo LAB Manufactuur

Structural planning:
ARGE Tragwerk Moringa WTM und Bollinger+Grohmann

Building services:
Drees&Sommer Advances Building Technology GmbH

Geotechnical engineering:
IGB Ingenieurgesellschaft mbH

Landscape design:
Mera Landschaftsarchitekten Partnerschaft mbB

Surveying:
Hanack und Partner

Water resources management:
LAGUS GmbH

Awards

polis Award 2022 – 1. Preis in der Kategorie `Ökologische Wirklichkeit`