MEEDLAND. Langeoog, Germany
Tradition meets poetry
The story of this social organisation begins after the war, when the Evangelical Church of Bremen began using war time barracks on the "Meedland" (pasture land) for youth camps. In the ensuing decades, new buildings were added and barracks replaced, leading to a generous ensemble for accomdation and seminars for diverse groups of people. After more than half a century, the ageing original houses, by now in need of refurbishment, required consideration for further development.
The Evangelical Church of Bremen tendered an architectural competition, which was won by KSV Krüger Schuberth Vandreike in 2012 with the now realised scheme.
The old path "Am Wall" still runs through the island between the houses of the only village, past dunes and pastures. The long "Oog", today "Langeoog", a sandy island which formed over the centuries, is only a few hundred meters wide and runs for several kilometers along the North Sea coast. After the last turn, a square comes into view. The wind caresses the gras bands on the square. Two wind-bent birch trees form the gate and setting for three striking new houses, Mirjam, Jona and Rebekka.
A solid closed wall with horizontal brick bands, interrupted solely by the opening of the outdoor fireplace, welcomes visitors with the warming light of the fire. The chimney forms a widely visible landmark. Similar to the classic Friesian farmsteads, the elongated gable roofs characterise the built form. In houses "Jona" and "Rebekka", two gable roofs are connected via a "glass" corridor. The gable of house "Mirjam" covers the building entirely. Red brickwork and red roof tiles complement the clear effect of the geometry of gables and elongated walls.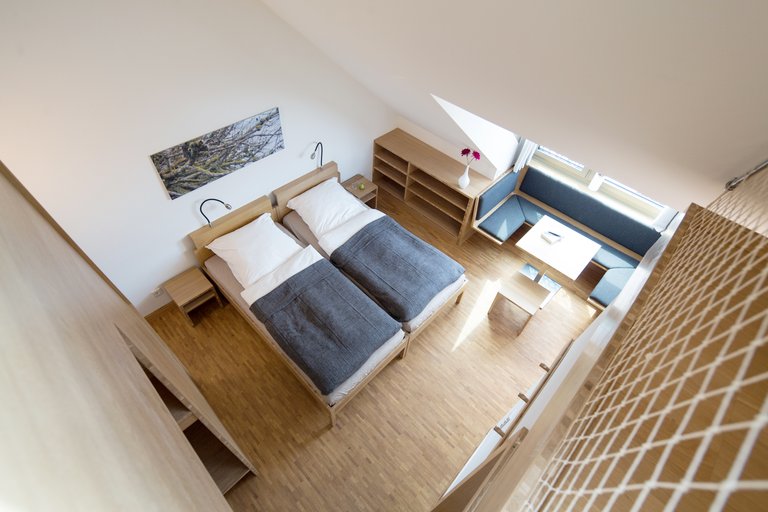 All the guest rooms are located in the quiet attic. The roof form of the houses characterises the room geometries. Thus the pointed gable lends the rooms in houses Jona and Rebekka the cozy feeling of an attic room, while the considerably higher rooms in House Mirjam, which have only a sloped celing, create the possibility of a space above the ensuite bathroom cube, which can be reached via fixed staris and can be used as a bunk bed.
The most striking element of the guest rooms though are the glazed dormers, which provide good lighting and panoramic views.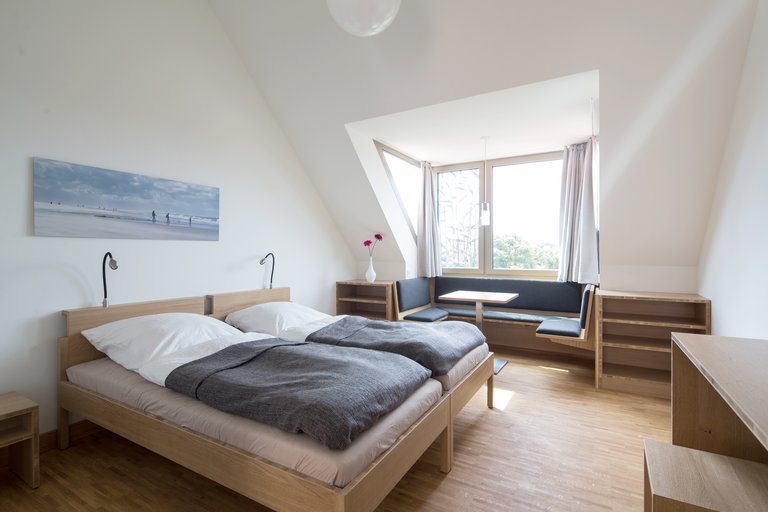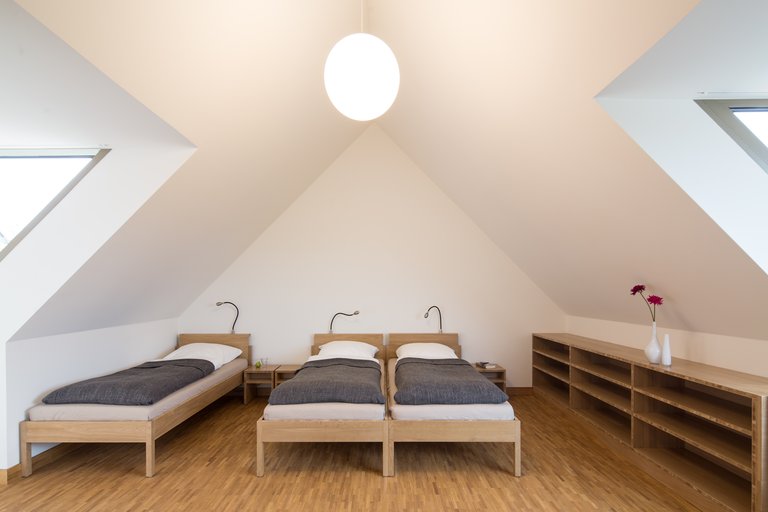 The interior fitout made from oak, designed exclusively by KSV for Meedland, references the principles of shaker furniture. It features a reduced formal language in which open surfaces reveal the structure.
KSV's landscape concept combines tree groves with large boulders. They reference the typology of the nordic landscape and create shady places to stay and rest around House Meedland.
---
Construction time / duration

2012 – 2018 design and construction time, construction in 2 phases (construction only permitted during the winter semester outside of season)

Opening in 2016 and 2018

Project type

hospitality, conference centre and guest house

Client

Bremische Evangelische Kirche

Architects

KSV Krüger Schuberth Vandreike

Planung und Kommunikation GmbH

Awards

German Design Award 2018: WINNER

BDA Preis Niedersachsen 2019: Distinction