Kantonsspital Aarau, Switzerland
A modern and visionary main replacement building is under construction for the Kantonsspital Aarau, one of the largest hospitals in Switzerland, in which all clinical areas will be brought together. The winning project "Triad" emerged from a two-stage general contractor competition and will be executed by a planning consortium with Burckhardt+Partner, Basel. The ground-breaking ceremony for the new building, which is expected to be ready for occupancy in 2025, took place in August 2021.
The new building of the Aarau Cantonal Hospital is a "stately house" in a park. Divided into three areas of use: outpatient clinics, functional areas and ward units, the hospital guarantees medical care that is characterised by efficiency and at the same time promises maximum flexibility. The portico at the front signals openness while providing orientation at the same time.
Patients, visitors and staff are welcomed in a boulevard flooded with daylight. This striking element separates the outpatient and inpatient areas and offers the best possible orientation in the building. The interconnectedness of the departments is addressed by multi-storey atrium-like spaces. Generous window openings facilitate a connection between the interior and exterior spaces and create a world of experience within the entire hospital.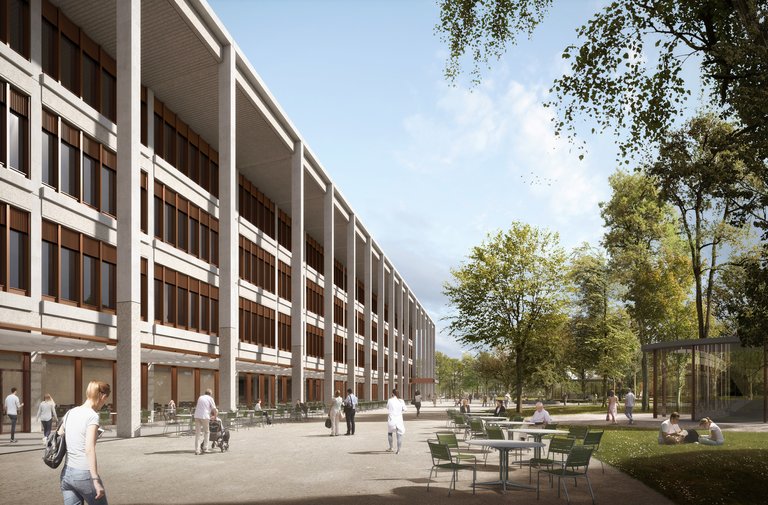 Completion

2025

Project type

Hospital

Client

Kantonsspital Aarau AG
general contractor: Implenia

Architects

ARGE Burckhardt+Partner/wörner traxler richter Planergemeinschaft

Planning experts

Façade planning:
Buri Müller Partner GmbH

Landscape design:
Grünwerk1 Landschaftsarchitekten AG

Interior design:
Iria Degen Interiors AG

Lighting design:
LICHT KUNST LICHT AG

Structural planning:
WaltGalmarini

Fire protection / Traffic design:
Kasburg Siemon Ingenieure KlG

HVAC:
Kalt & Halbeisen

Ventilation planning:
Vadea AG

Electrotechnical planning:
IBG B. Graf AG

Logistics:
Ramboll GmbH

Commercial kitchen planning:
H plus S Gastronomiefachplanung GmbH

Medical planning:
mtp Planungsgesellschaft für Medizintechnik mbH

Minergie Eco:
CSD Ingenieure

Certification

Minergie-P-ECO