The Icon Vienna, Vienna, Austria
Effective from a distance yet blending in seamlessly with its urban surroundings, the new Business Centre is a landmark at Vienna's Central Station. The spires of the three different towers confidently occupy the triangular plot. Formed like smooth rocks, the three towers support the flow of people through the inner-city quarters. An exciting space is created which allows spectacular views outside and through the building. It fulfils the urban standards set out for the quarters. Spacious lobbies welcome visitors and lead to vertical openings. The levels interlace to create logical connections and spatial diversity, and the in-between spaces evolve into adventure settings. The central plaza on the ground floor assumes a key pivotal function and logically continues the structure of the public spaces from the new Campus and Quartier Belvedere to the central station. The anodized surface of the aluminium façades features different colour shades, thus allowing for the three different volumes to be perceived while the fundamental design idea remains the same. The casement windows feature a hinged wing, impact pane and exterior sunshield and guarantee a high level of user convenience while ensuring the highest standards in terms of building sustainability. Their structure is designed to allow for later conversion as well expansion of the conference areas or for additional retail spaces.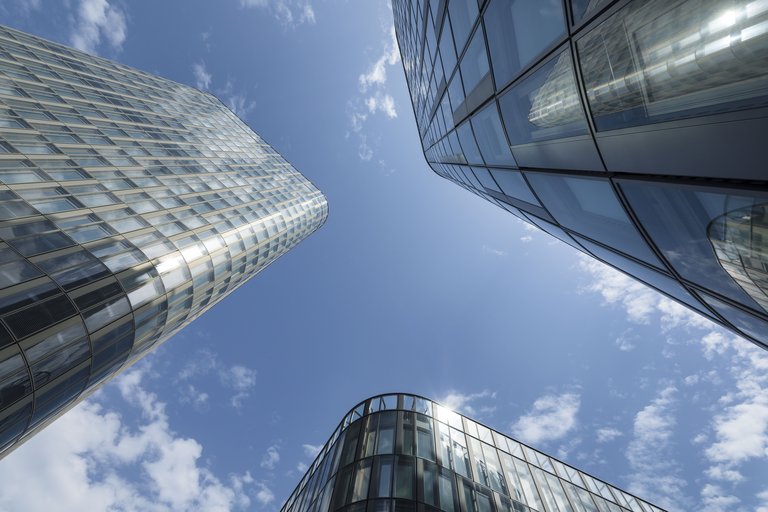 This innovative trio is an ecological and environmentally friendly project. Eco-friendly construction methods and sustainability played a major part in the planning and design phase (LEED Platinum Certifikate). The building envelope is created in such a way that it ensures an optimum use of daylight and natural ventilation.
Embedded in the Belvedere district, THE ICON VIENNA is not only enriching the development of the area, but is rapidly becoming an architectural landmark and a much sought-after address in this inner-city business location.
Behind a generous glass facade, high quality office spaces for about 5,700 employees have been created on approximately 87,000 square meters of rental space. Thanks to their exceptional flexibility and the optimum use of space, the buildings are suited to various uses and office layouts precisely to tenants' needs, be it open plan or closed offices. The three office towers provide breathtaking, panoramic views of the city of Vienna through the floor-to-ceiling windows. The tallest of the towers reaches a height of 88 meters.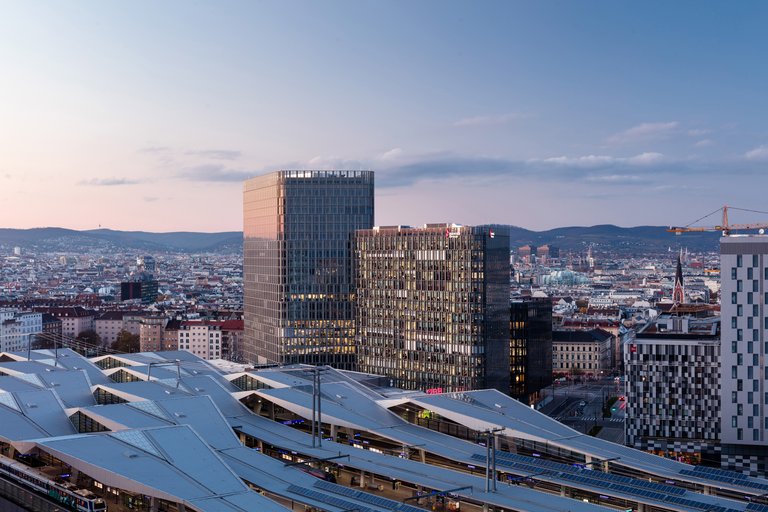 Competition

Invited Competition 2013,1st prize

Completion

2018/19

Project type

Business Center with Shopping Mall

Client

SIGNA Development

Owner

Allianz Real Estate since 2017

Architects

JSWD Architekten
BEHF architects

Planning experts

Implementation planning + Construction management: HNP Architects

KWI Engineers
Triax ZT GmbH
Dr. Pfeifer, Brandrat ZT GesmbH
Sobek Ingenieure
Dr. Pfeiler Gnbh
Pokorny Lichtarchitektur

Certification

LEED certificate Platinum