Smart Transformation Museum, Hangzhou, China
Marco Polo once described Hangzhou as the "most beautiful city in the world" - even today, the metropolis in eastern China enjoys a reputation as a "paradise on earth". With the Smart Transformation Museum, a museum exhibition complex has now been created there, whose design is based on three interpenetrating, conical structures. A lamella façade envelops the pavilions, which are staggered at different heights, with a seemingly flowing lightness. Additional movement is conveyed within this horizontal façade structure by individual raised slat areas that open up the building envelope in the form of glass window and door areas and allow access and insight. Through them, the dynamic communication character of the museum also becomes visible externally. The water level that surrounds the Smart Transformation Museum and reflects the tapered pavilions gives the individual pavilions and the ensemble additional expanse. At night, the museum appears like a sculptural light object with its illuminated façade.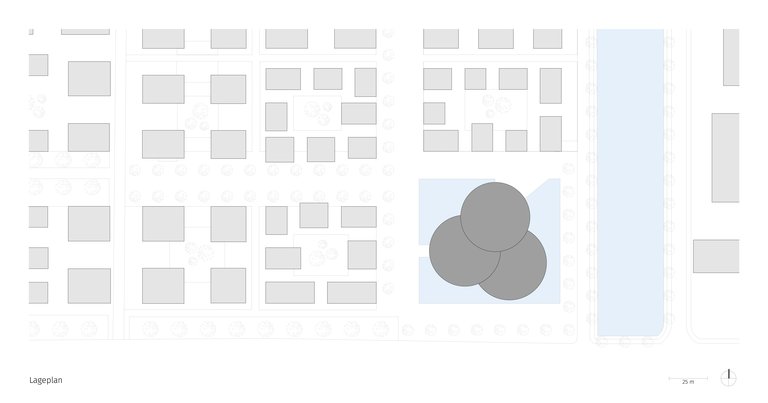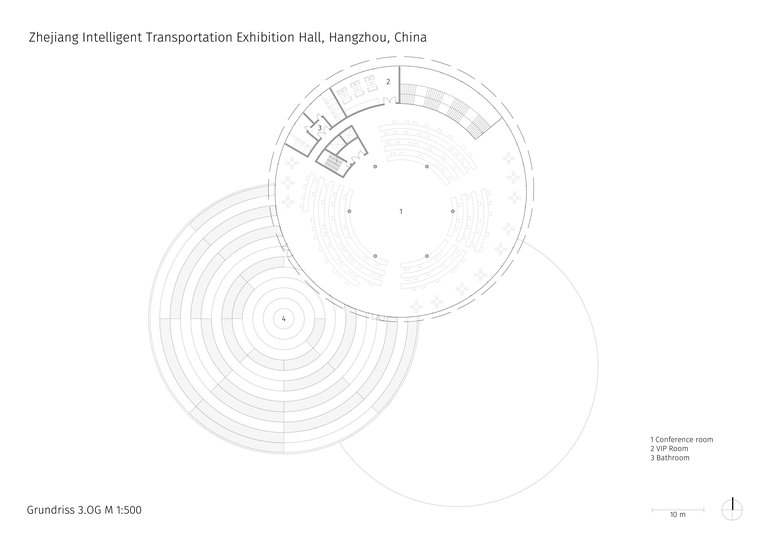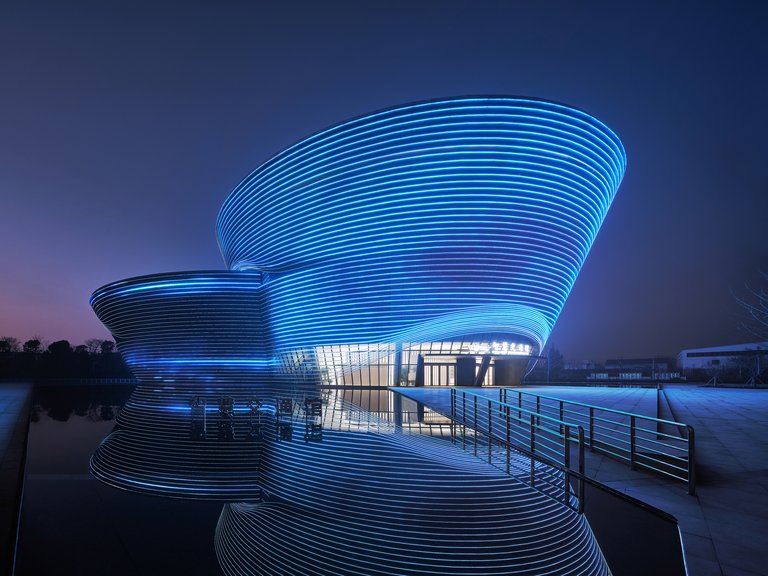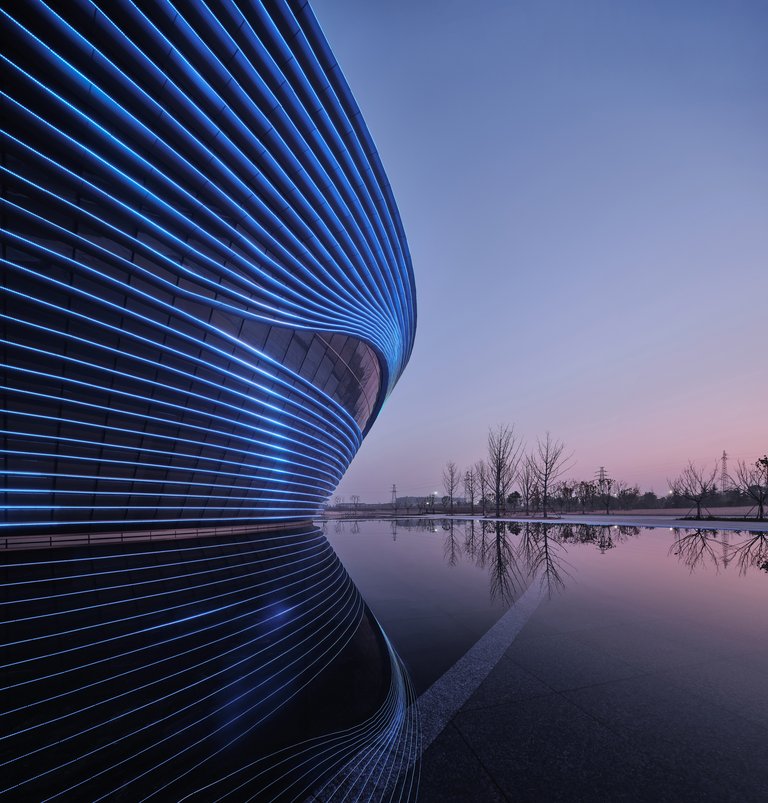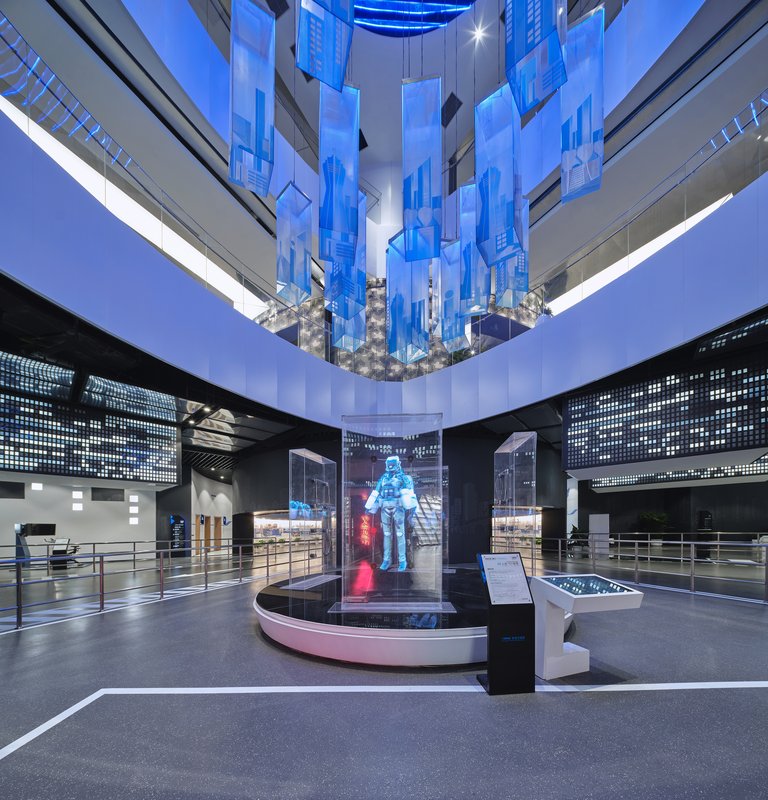 The three buildings of the museum complex are structurally interconnected and overlap in the middle. On their two to four floors, they include various exhibition areas as well as areas for scientific work, workshops and conference rooms. The routing inside the building uses the dynamics of the circular form as a reference to the museum's focus on intelligent traffic systems, traffic patterns, data acquisition and smart systems. Circular staircases developed from the structural concept serve to open up and link the individual museum areas in terms of content.
The building sections, which are staggered at different heights, form a striking urban accent within the grid structure of the Xiaoshan district near the airport. The design of the façades, which enclose the three buildings in a horizontal lamella-like structure, is particularly striking. This gives the Smart Transformation Museum an omnipresent effect in combination with the conical design language. On the roof surfaces, which extend upwards, there are green viewing platforms that offer a good view of the exciting urban surroundings.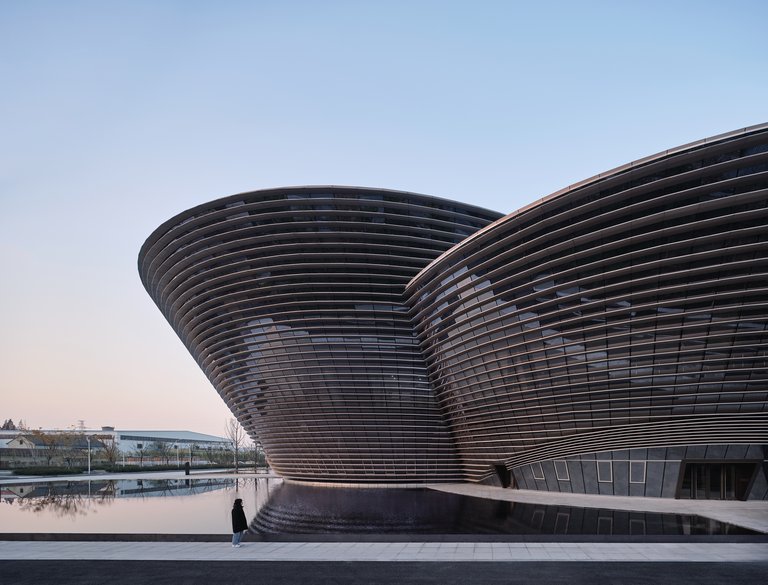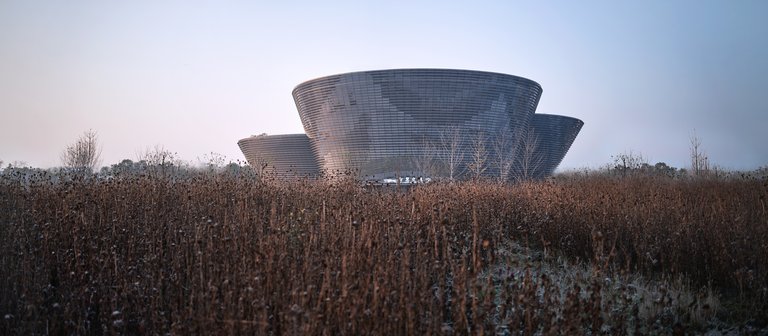 The design of the Smart Transformation Museum reflects the special history of the site. The pavilions, which taper downwards, seem to float in the surrounding water. The water forms the foundation of the architectural concept and lends the architecture additional impact. The element of water traditionally enjoys a special significance in Hangzhou, as it refers to the historical engineering achievements of Chinese hydraulic engineering. The 1,700-kilometre-long Great Canal runs between Beijing and Hangzhou, and is still a symbol of economic and cultural exchange today. This is why the element of water continues to shape Hangzhou's urban planning to this day. The Smart Transformation Museum is based on this and, by linking past and present, is developing a transparent and dynamic location for researching future technologies, documenting them and communicating them to society.
| | |
| --- | --- |
| Project type | Museum |
| Architects | Gerber Architekten |