Nanshan Science & Technology Innovation Center, Shenzhen, China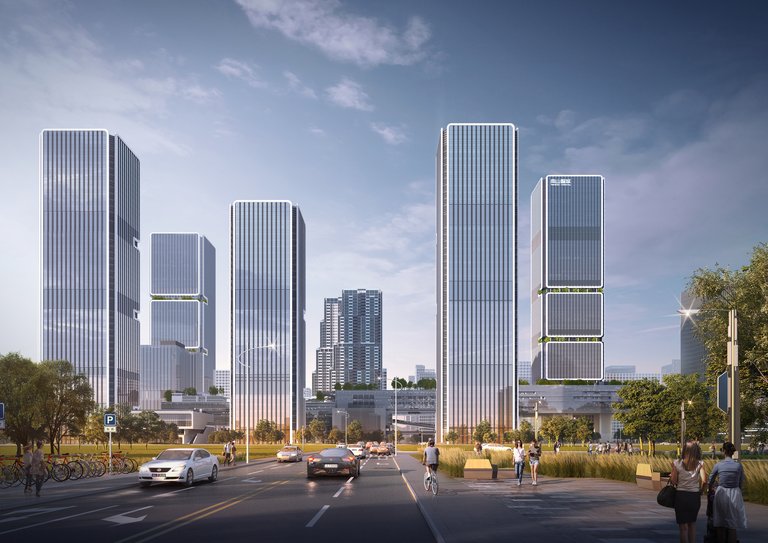 INDUSTRIAL ECOLOGICAL RAINFOREST
Nanshan STIC will become an important Science & Technology hub among the wider region due to its central location within the Liuxiandong Headquarters Base in Shenzhen.
The design team's vision is to introduce an eco-industrial park system with high complexity, diversity, sustainable variable typologies and long-lasting vitality. Nanshan STIC is an important part of the realization of a China Silicon Valley in Shenzhen area and will become a model of comprehensive innovation; Science & Technology Innovation Park 5.0. HPP has won the design competition in cooperation with Shenzhen General Institute of Architectural Design and Research Co., Ltd. (SZAD) and AREP, and is currently developing the design in preparation of the construction.
The project is designed as a Transit-Oriented Development (TOD) that is optimally linked on different levels to the future large-scale transportation hub of the Xili High-speed Railway Station, directly benefitting from this new engine of economic development in Shenzhen. The Xili High-speed Railway Station, the Shigu Subway Station and an on-site bus station are all easily accessed through a multi-layered network: A fast, efficient vertical and a lofty, flexible horizontal traffic system that allows an ideal integration of city, block, podium and tower.
Innovative office and laboratory typologies for Information Technology (IT), Pharmaceutical Medicine & Health and Artificial Intelligence (AI) are distributed within five towers. A sixth & seventh tower provides apartments for talents of these future industries. To achieve a design without closed, isolated and self-functioning plots and towers, a large interconnecting platform with dynamic co-working and experimental Research & Development spaces is created. Within this incubation platform new companies have all the space to develop and grow, but also to benefit from their direct neighbors. It raised high above ground level to reduce the impact on the urban public space and shelters a lively commercial area. Vertically enhanced, it fully integrates an efficient flow of people on a variety of levels, creates a human scale with lush green leisure areas and optimizes the penetration of sun-light into lower levels.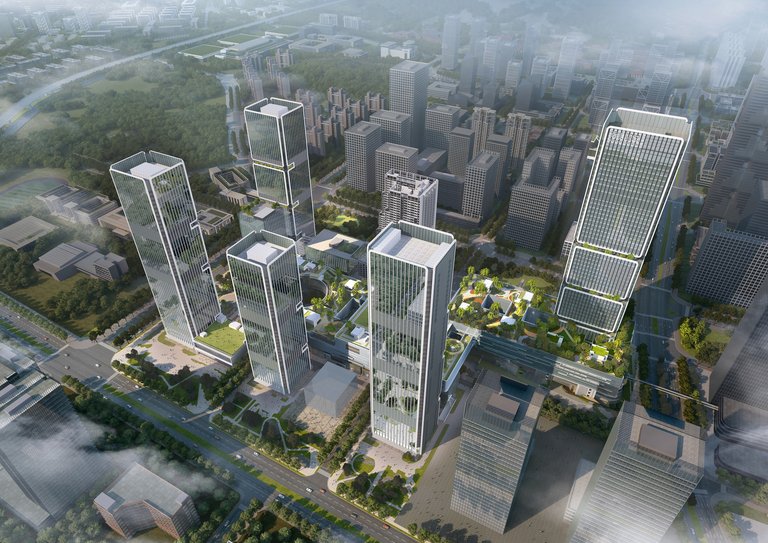 The rainforest layering structure manifest itself in the overall design through these three layers: The Understory Layer, the Canopy Layer and the Emergent Layer. These layers are bound together by a publicly accessible urban park.
The Understory Layer – Urban Citizens
The Understory Layer links urban traffic and guides people flow. It functions as the project's Transport Network, Office & Laboratory Lobby, Shopping Street and Conference Center. The platform is lifted up 30 meters over the Understory Layer to ensure the optimum penetration of natural light and to provide a comfortable, rain-protected environment underneath it. The resulting environment is now flexible to arrange, within human scale, inviting and easily accessible from the surrounding urban blocks; a dynamic public living room where people can share ideas and gather together.
The Canopy Layer - Creators
The Canopy Layer is formed by the raised platform. With its huge size of around 400 meters in length and 110 meters in width, this layer is the perfect incubator for companies to grow, learn and benefit from each other. The large scale of the Canopy Layer, combined with an efficient and flexible floorplan layout, provides a great 'breading ground' for start-ups, small and medium-scale enterprises to develop rapidly. It offers plenty of spaces for experimental research, co-working, communication, informal meetings, seminars, product expositions and sport activities. The platform is connected with the surrounding towers that have easy and direct access, therefore creating a dynamic, active, symbiotic and thriving industrial working environment.
The Emergent Layer - Researchers
The Emergent Layer emerges from the lower layers in the form of seven towers that reach heights from 160 to 250 meters. By placing these towers around the platform a relatively private working environment is created which is orientated towards the inner lush green areas of the Canopy Layer. Large-scale companies or Unicorn companies who have emerged from the incubator offices in the Canopy Layer will find a flexible floorplan size and arrangement well suitable for enterprises of various fields in these towers. All towers are fully entangled with the platform by horizontal connections to create opportunity for exchange and interaction.
Urban Park
These three layers are all accessible within a multiple circulation system, forming an urban park and following the gentle slope of a meandering river. It is directly connected to the underground levels with access to the Xili High-speed Railway Station and the Shigu Subway Station and provides a wide variety of public urban spaces and functions, including a city garden, a dynamic sports roof, a community service center, a canteen, an exhibition center and several commercial and cultural functions.
| | |
| --- | --- |
| IN WHICH WAY IS THIS BUILDING PROJECT INNOVATIVE? | This project stands for a smart and highly densified city as an answer of today's urban demands. The compact mixed-use project contains programs for living, culture, large scale urban landscape and creates a unique business ecosystem. It offers both prolific environment for start-up initiatives and sustained growth potential for corporate enterprises. Networked incubators dispersed throughout the entire project support efficient and sustainable use of exterior and interior spaces and buildings, that allow for flexible and adaptable growth. |
| | |
| --- | --- |
| Completion | 2022 |
| Project type | Science and technology hub |
| Client | Government of Nanshan District, Shenzhen |
| Architects | HPP, SADI and AREP |
| Technical data | GFA: 1,050,000 m2 |