Exhibition Building Mathildenhöhe, Darmstadt, Germany
The Mathildenhöhe in Darmstadt is a unique architectural and urban 'Gesamtkunstwerk', and in July 2021 it was designated a UNESCO World Heritage Site. Both the Exhibition Building designed by Josef Maria Olbrich and erected in 1908 at the highest point of the city, and the Wedding Tower (Hochzeitsturm), the city's landmark built at the same time, are landmarks that continue to define the cityscape to this day. (www.mathildenhoehe-darmstadt.de).
The renovation work was initially prompted by the need to replace the building's out-dated services, which no longer met the stringent conservation standards for temporary exhibition halls of such cross-regional importance. The resulting sustainable, interdisciplinary energy concept was funded by the German Federal Environmental Foundation (Deutsche Bundesstiftung Umwelt) and it takes advantage of the building's specific context. For example, here building services now incorporate the historic water reservoir under the exhibition building to serve as an energy store. The quality of the exterior building shell has been significantly improved by the application of a new type of very efficient mineral-based insulating render, and modern glazed panels allow a controlled and efficient use of daylight while minimising both overheating in summer and heat loss in winter. During the course of the planning process, the remit to overhaul energy use was further extended to encompass a far-reaching overall refurbishment of the historic building complex, and compliant with its listed status.
A judicious reworking the spatial brief meant that sufficient space was forged for a new café – which now also has barrier-free access – on the west side facing the plane tree grove. Between the Exhibition Building and the Wedding Tower a sensitive stripping-back of former alteration interventions has resulted in a new and prestigious space. Its distinctive design clearly identifies it as belonging firmly to the 2020s and, together with many other carefully designed details it adds yet a further contemporary layer to the iconic building.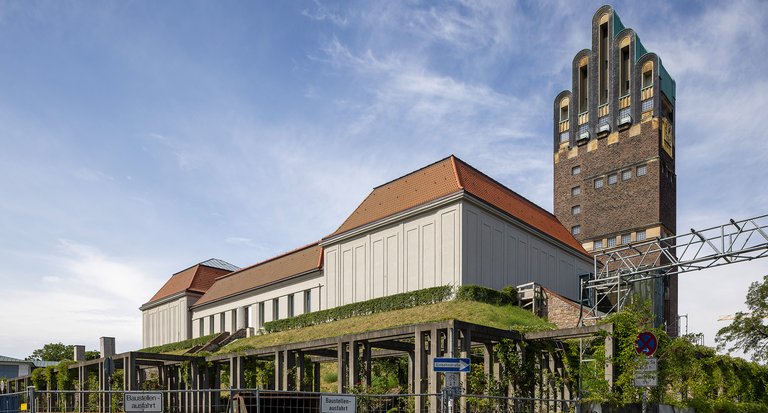 | | |
| --- | --- |
| Year | 1908 / 1976 / 2022 |
| Construction time / duration | 2017-2022 |
| Project type | Exhibition Building, Renovation of a listed building |
| Client | Stadt Darmstadt / Institut Mathildenhöhe Darmstadt |
| Architects | schneider+schumacher |