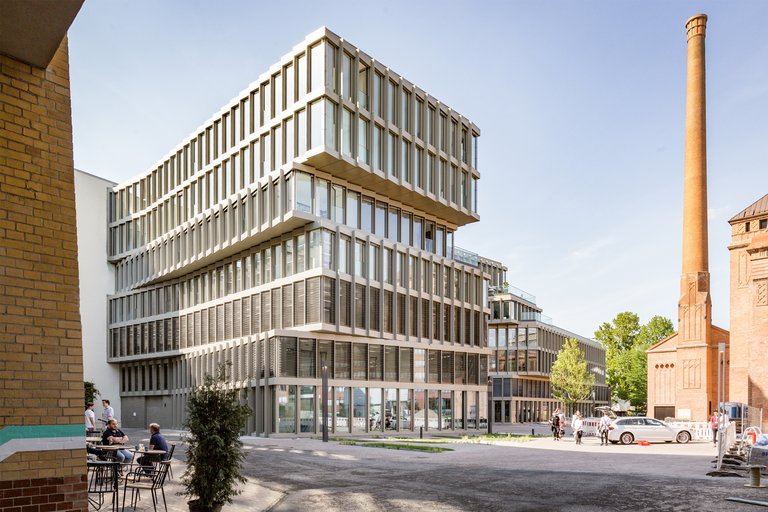 | | |
| --- | --- |
| DOES THIS PROJECT MAKE A DIFFERENCE? | Architecture is a tool for forming a new understanding of urban space as a flexible and adaptive canvas of dynamic human interaction. By preserving the entire existing building stock and deriving the new building sections from a strict analysis of them, the proportions and scale of the additional volumes are directly related to the existing heritage. |
| DOES THE EISWERK CONTRIBUTE TO BUILDING CULTURE? | The intricate, highly heterogeneous façade of the newly erected buildings is an example of precise quality and engineering. The abstraction of the repetitive façade components – which fulfil the requirements of sun protection, ventilation, and views – in relation to the playful shifts of the different horizontal volumes stands for a building culture of relaxed discipline. |
GRAFT was commissioned to convert and redevelop a former ice factory on the banks of the River Spree in the Mitte district of Berlin. Located close to the Ostbahnhof train station, the development features a new residential building with commercial units on the ground floor and an additional commercial building with underground parking facilities.
The factory is part of an industrial area that stretches from the River Spree to Köpenicker Strasse. Home to lumberyards and lumber markets in the 18th century, it was later bought by the Norddeutsche Eiswerke A.G. (North German Ice Works Company), who constructed a residential and industrial complex with two courtyards on the street side of the plot—and which is now listed as a protected building.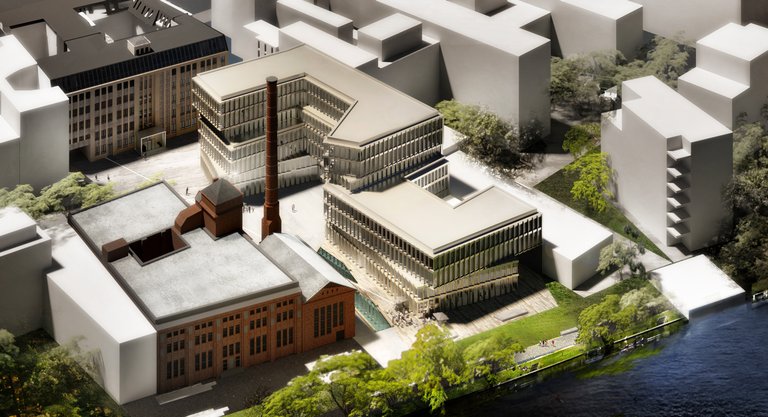 The existing residential building along Köpenicker Strasse will be renovated and partially converted into smaller units and brought in line with current housing standards.
With a focus on retaining its original industrial character, the former cooling house will be converted into a commercial building with two office units on each floor. Devised as spaces for group working, each office will be equipped with a kitchenette and a lounge area.
Further office space will be created in a new building that spans two volumes, offering flexible layouts and adaptable as individual and group offices. The entrance and reception areas to these offices will be situated on the ground floor—along with a restaurant and other commercial, cultural and exhibition spaces.
A second new building will close the current gap on Köpenicker Strasse, adding a front building and side wing to the existing cross-building. This will create a total of 34 apartments and two additional commercial units.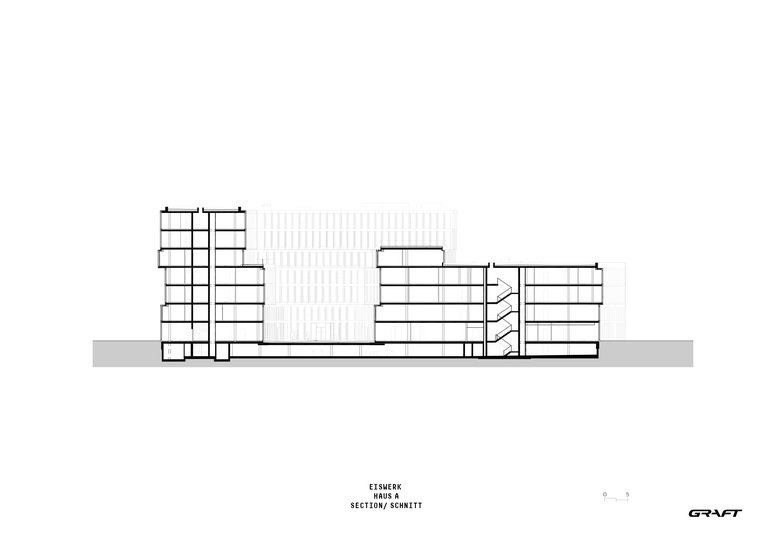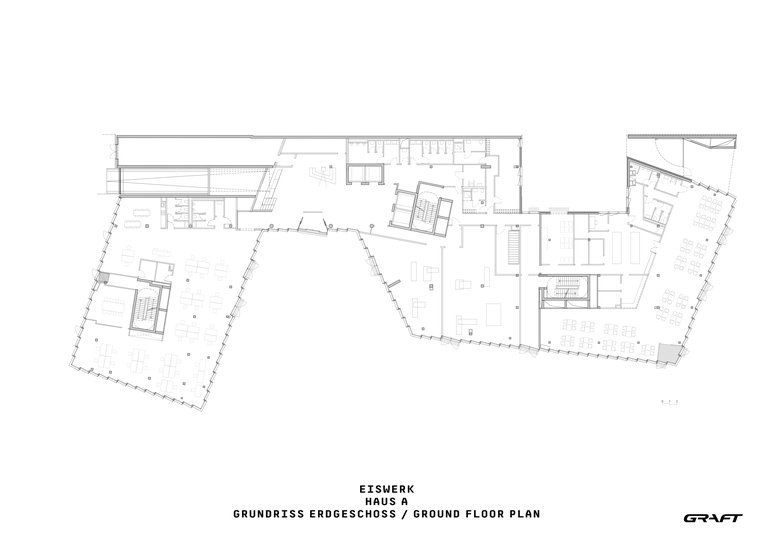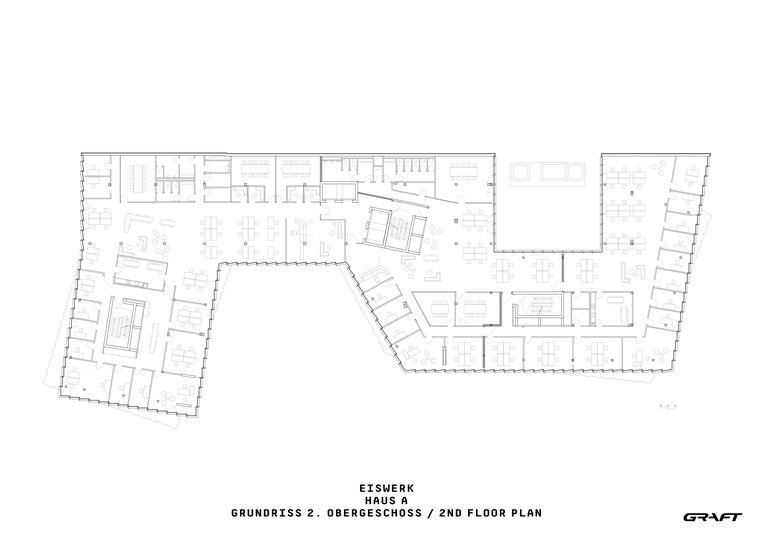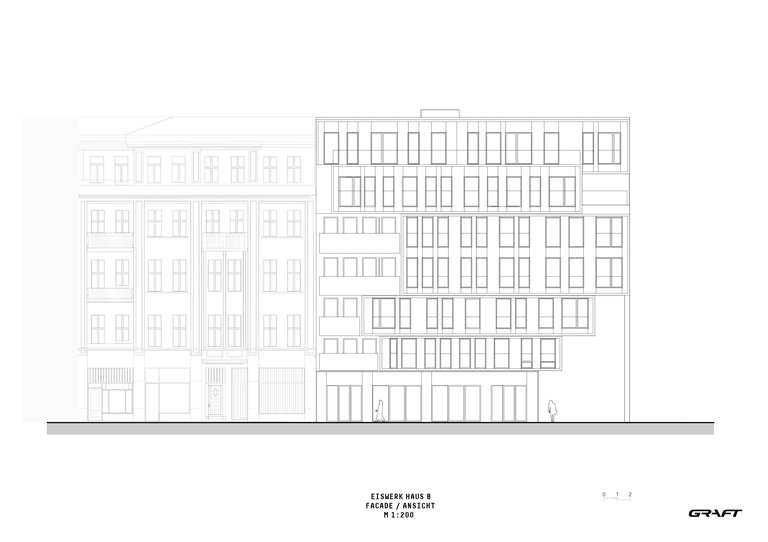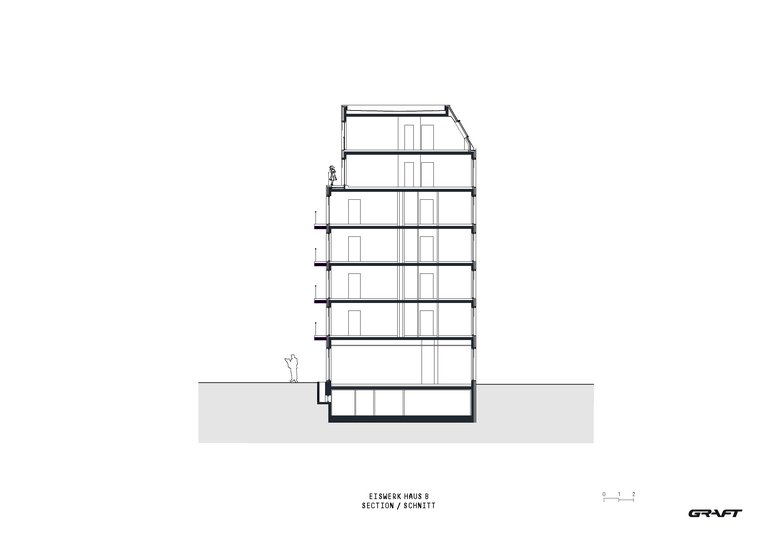 With the Eiswerk, GRAFT is creating a modern, inner-city quarter that complements the existing building stock and revitalizes the area around the former ice factory while paying heed to its long history.
Year

Existing building: 1913-1924

New construction: 2022

Project type

Refurbishment, extension and new construction, conversion of a mixed-use building with residential and commercial use

Architects

GRAFT Gesellschaft von Architekten mbH

Clients

Trockland Management GmbH

Planning experts

Structural planning:
Ingenieurbüro Rüdiger Jockwer GmbH, Berlin

Technical planning:
Planteam Schwarz, Berlin

Landscape design:
Dipl.-Ing. Stephan Haan, Berlin

Interior design:
rw+ Gesellschaft von Architekten mbH, Berlin

Construction management:
IKR Ingenieurbüro für Bauwesen Kuschel GmbH, Berlin

Preservation:
MWA - Büro für Denkmalpflege, Berlin

Building acoustics:
BeSB GmbH Berlin, Berlin

Building physics:
WISSBAU Beratende Ingenieurgesellschaft mbH, Essen