Digital Incubator Ingolstadt, Germany
| | |
| --- | --- |
| Why does this project stand for "Made in Germany"? | The restoration of Kavalier Dalwigk is representative of the way monuments are treated in Germany. The aim is to preserve as much historical building fabric as possible. The atmosphere and history of the building should remain tangible with all layers of decay and all interventions in the building structure through the most diverse uses. The production of replicas or reconstructions of parts of buildings as well as cosmetic interventions are no longer favored for monuments. |
The project is located directly on the banks of the Danube river in a historically significant environment. It consists basically of two different parts: A sensitive restoration and conversion of the historic fortress building, the "Kavalier Dalwigk", and a new building right beside the historic monument.
The Kavalier Dalwigk becomes the new base of the digital start-up center Ingolstadt "brigk" with office spaces and an event room in the former transformer house. The new building with up to 9 storeys houses seminar rooms for the university, office spaces and a restaurant with a magnificent view over the Danube.
The Kavalier Dalwigk was originally built as a fortress. It was later used as a royal gun foundry and bullet factory. The proposed renovation is turning this extraordinary building into a place of work, reflection and creativity.
The whole checkered history of the building should remain alive and should be able to be experienced. No unnecessary reconstruction or cosmetic work was done here with the aim to preserve the atmospheric state of decay and to document the various layers from the past as authentical as possible.
The aim of the intervention is to define how the new building will be integrated into the campus and to examine how the new and historical building can coexist and be connected while preserving their respective formal and functional character.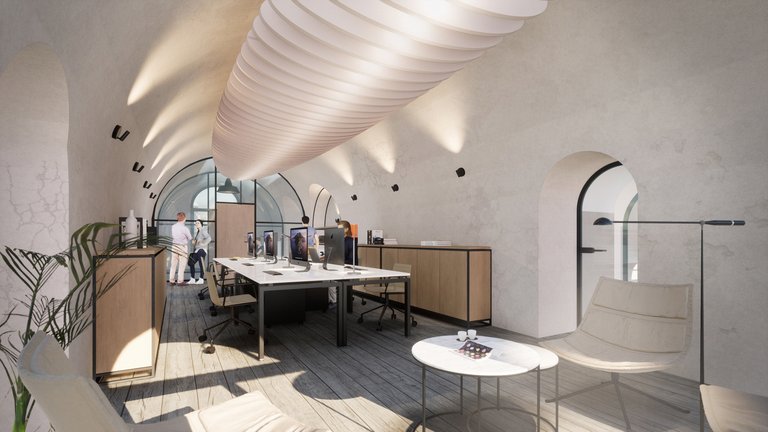 It is essential to find a sensible balance between renovation that is appropriate to the monument and the desired usage requirements. Elements worth preserving must be carefully demounted, renovated and reinstalled in their original place. Only in exceptional cases parts are installed in other places to supplement defects.
With this sensitive approach it is possible to revitalize the historic building through a respectful reuse.
The existing structure of the round water tower is to remain unchanged. To ensure fire protection, a new staircase with an integrated elevator system is planned. This stairwell is located on the north side to later ensure a better view of the Danube from the restaurant. The original airspace in the middle of the tower remains open in order to maintain the visual grandeur of the tower.
A generous staircase will lead from the campus to the public terrace on the roof of the Kavalier Dallwigk, which can also be used independently of the restaurant.
The roof terrace, which is now open to the public, is flanked by the water tower and a rectangular structure on the roof of the existing building with an unobstructed views of the campus to the north and the Danube to the south.
The all-round panorama opening from the monument, the Danube, the Triva Tower, Glacis and Campus add to a very special atmosphere.
The new building has the double task of connecting south are of the campus to the Danube, at the same time completing the Kavalier Dallwigk without wanting to compete with it.
Project type

Refurbishment of a listed building and new construction / Mixed use, office, education, restaurant

Client

INKoBau GmbH Co. KG

Architects

ARGE

Falk von Tettenborn Architects

Gina Barcelona Architects

Planning experts

Structural planning:
BAURCONSULT Architekten Ingenieure GbR

MEP:
Team für Technik GmbH, HLS Ingenieure Versorgungstechnik

Electrotechnical planning:
VE Plan GmbH

Landscape design:
Burkhardt | Engelmayer | Mendel Landschaftsarchitekten Stadtplaner Part mbB