Siemens Healthineers Global Campus, Bengaluru, India
Jury statement / Finalist Shortlist des MPIPM Award 2022 Future Mega Projects
Overall, the design is an outstanding contribution to the competition, praised in particular for its potential to create a campus integrated into the urban fabric with a human scale for the employees, as well as for the coherent overall concept with high potential.
Erasmus Eller Principal, Eller + Eller Architekten GmbH, Duesseldorf/Berlin, Germany
Since my first encounter in 1999, India has not let me go. I had been there six or seven times ever since, each time with great curiosity and with gratitude for the lasting experiences. I am always fascinated by the intensity of the human encounter. I am also very impressed by the way in which in India the inner drive of the individual to make something of himself or herself brings people together in the community - and turns them into inventors in everyday small things as well as in entrepreneurial big things. The enthusiasm that can be felt in India, for turning to new ideas together, is also my personal inner drive. It is no coincidence that one of our office's mottoes is 'the human encounter is at the center of everything we do'.
In approaching the exciting competition task, we soon decided on the idea of a campus. A campus provides a forum for this remarkable culture: There, many committed people can come together, exchange ideas and network in order to discover and develop new things together. In our highly committed team and in collaboration with Arup and Rainer Schmidt Landscape Architects, we have continued to develop this initial idea with great enthusiasm, constantly intertwining and aligning it with the ambitious goals and expectations of Siemens Healthineers. We are therefore very pleased that we were able to convince the jury of our concept, against renowned international competitiors. Together with Siemens Healthineers, we will now develop working environments for the young talents of tomorrow (and the day after tomorrow), familiarly integrated into an inspiring campus community.
Rainer Stark Architect, Head of new construction & workplace management, Real Estate, Siemens Healthineers AG, Erlangen, Germany
It's even more than an 'innovation hub'. It's going to be a dynamic Siemens Healthineers Campus where we can work, live, and network with our colleagues and with the world inside and outside our company.
Dileep Mangsuli Head, Siemens Healthineers Development Center, Bengaluru, India
We were looking for a campus feeling, with lots of open spaces, coupled with an iconic design to represent the open-culture in our company. Eller + Eller's proposal had all these properties and classical design elements, and that is why it is a winner.
Siemens Healthineers AG, a global leader in medical technology for diagnostics and therapy, is intending to build a new interdisciplinary campus for research and development in Bengaluru, India. This new complex will be the largest of all global sites of the Germany-based company and will be the largest investment in India to date. To find the optimal solution for design, functionality, cost-effectiveness and sustainability, Siemens called out an international competition, with a pre-qualification phase upfront. Eller + Eller Architekten were the only German firm to qualify for the final round, and we were given the first prize by an unanimous vote of the jury.
The project in numbers:
175,000 m² gross floor area GFA
143,000 m² net floor space
4.56 ha campus area
Building height up to 70 m
up to 18 full storeys
Start of planning 05/2021
Start of construction 2021
Completion 2025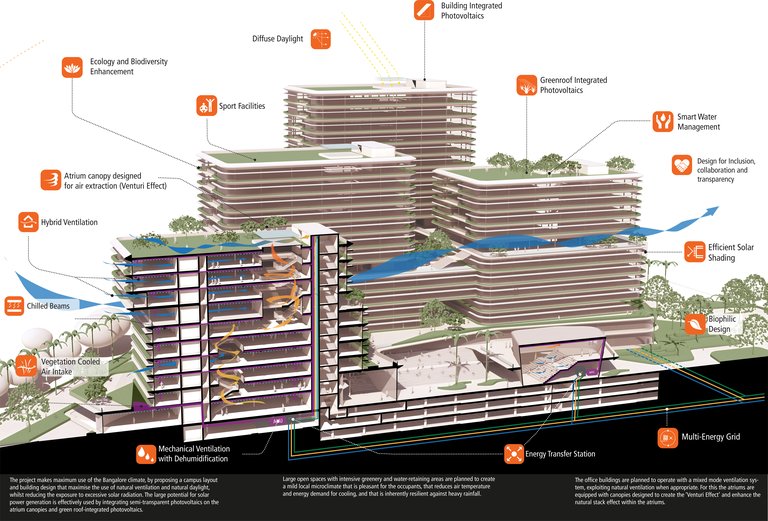 The guiding theme of the campus is enhanced by connectivity, collaboration, communication and transparency
Technological innovation is not only generated in the spatially clearly defined functional areas tailored to concentrated work, as research and development, but also through the casual encounter with other people, the informal exchange of ideas and opinions, the interdisciplinary impulse.
The human encounter and the diversified circulation and strolling on campus is given a new dimension in the architectural landscape designed by Eller + Eller together with Arup and Rainer Schmidt landscape architects, providing an inspiring stage.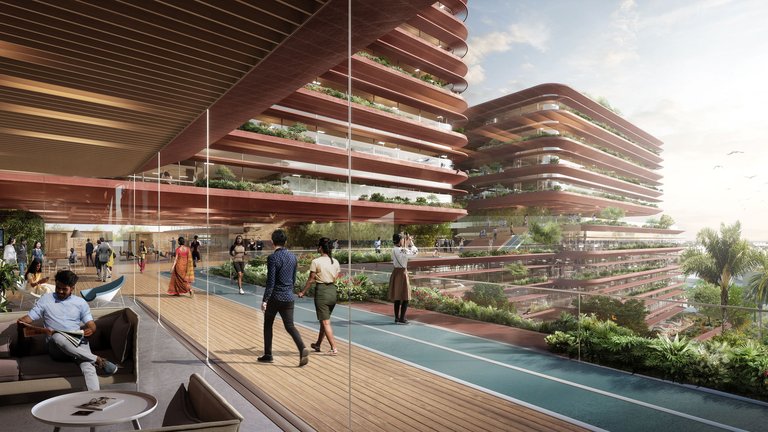 Seven buildings, staggered in height and grouped around a landscaped courtyard, are connected to each other on several levels via terrace-like sky walks and sky gardens. These connecting and intermediate zones, as well as the flights of stairs set in atriums and air spaces, are much more than just walkways; rather, they serve as attractive meeting and communication zones between the zoned work and functional areas.
The symbolic heart of the campus is the open-air lounge with trees and lots of greenery, as a marketplace for people to meet. Architecture and open space combine to form a unified gesture, blurring the boundaries between inside and outside. The movement on campus permanently enables new perspectives, insights and outlooks, invites you to discover and broadens your horizon.
Notwithstanding the high transparency and openness of the loosely interspersed structures, the building complex is kept compact and yet allows for quick shortcuts if needed. If additional area would be required in the future, the structure already provides for an expansion of the campus with additional buildings to be docked on.
Siemens Healthineers' goal of becoming a carbon neutral company by their own emissions by 2030 receives extensive attention in the campus' differentiated sustainability concept. The project takes maximum advantage of Bangalore's climate by proposing a campus layout and building design that maximizes the use of natural ventilation and natural daylight while reducing exposure to excessive solar radiation. The large potential for solar energy generation is effectively exploited through the integration of semi-transparent photovoltaics on the atrium canopies and roof-integrated photovoltaics.
Large open spaces with intensive greening and water retention areas are designed to create a mild local microclimate that is comfortable for users, reduces air temperature and energy demand for cooling, and is naturally resistant to heavy rainfall.
The office buildings are operated with a mixed ventilation system that utilizes natural ventilation when needed. For this purpose, the atriums are equipped with canopies that create a 'Venturi effect', enhancing a natural stack effect within the atriums.
Client

Siemens Healthineers AG

General planner / Design and Workplace Consulting

Eller + Eller Architekten GmbH

Planning experts

Engineering:
Arup Deutschland GmbH, Berlin

Landscape design:
Rainer Schmidt Landschaftsarchitekten GmbH, Munich

Awards

1st Prize International Design Competition
Leed-Certification Platinum

Finalist MIPIM Award 2022, category Future Mega Project

Finalist International Architecture Awards 2022