Sailing club Marina Kaštela, Kaštel Gomilica, Croatia
The two-part complex on the reclaimed peninsula on the southernmost side of the marina has the most prominent location of all of the port's buildings. The link between the high hangar building and a lower guest building is emphasised by a shared self-supporting façade (Alucobond panels).
The spacious glazed façade affords the rooms inside the lower building natural lighting and ventilation. The light enters the hangar through the ground-floor glazing on the south side and through narrow strips of glass between the horizontal façade panels.
The sailing club is accessed via a main entrance on the west side. From the foyer with reception desk and lounge and from the instruction rooms divided off with mobile partitions an open staircase takes you to the restaurant on the upper floor or down the corridor along the east-west axis to the sailors' cloakroom, WCs and hangar.
The spacious restaurant area including service rooms on the upper floor opens onto a terrace on the south and west sides; in addition, stairs run up to the roof of the lower building that serves as a viewing platform. The building is a reinforced concrete structure. The column-supported ceilings with no bearing beams allow maximum flexibility of interior design. Ceiling loads are transferred at points into the reinforced concrete supports and in lines into the few RC walls that also serve to brace the building.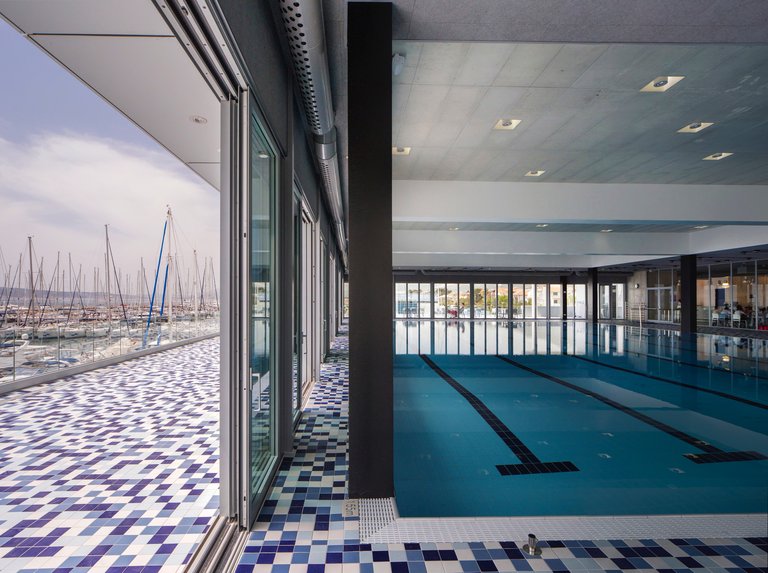 The indoor swimming pool is situated to the north of the sailing club, the envelope design fitting in seamlessly with the overall concept.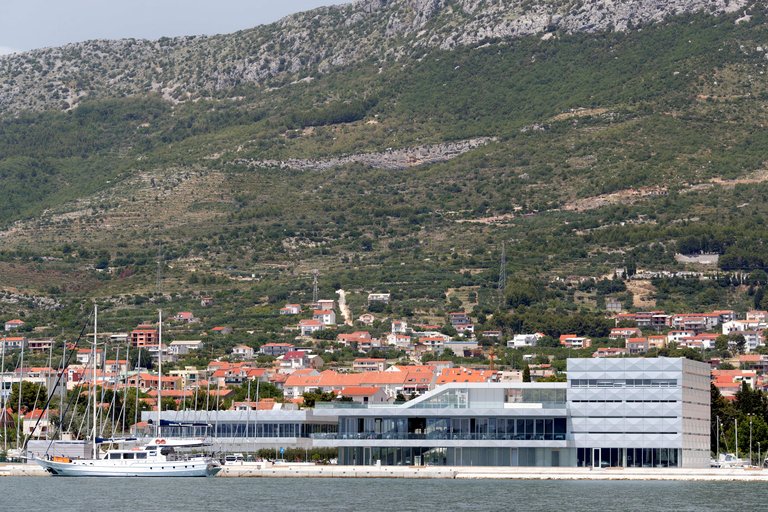 Completion

2017

Project type

Infrastructure

Client

MARINE KAŠTELA doo, Kaštel Gomilica, Croatia

Architects

Riegler Riewe Architekten

Technical data

Gross floor area: 5.260 m²
Net floor area: 4.230 m²