Fraunhofer Institute for Cognitive Systems, Garching, Germany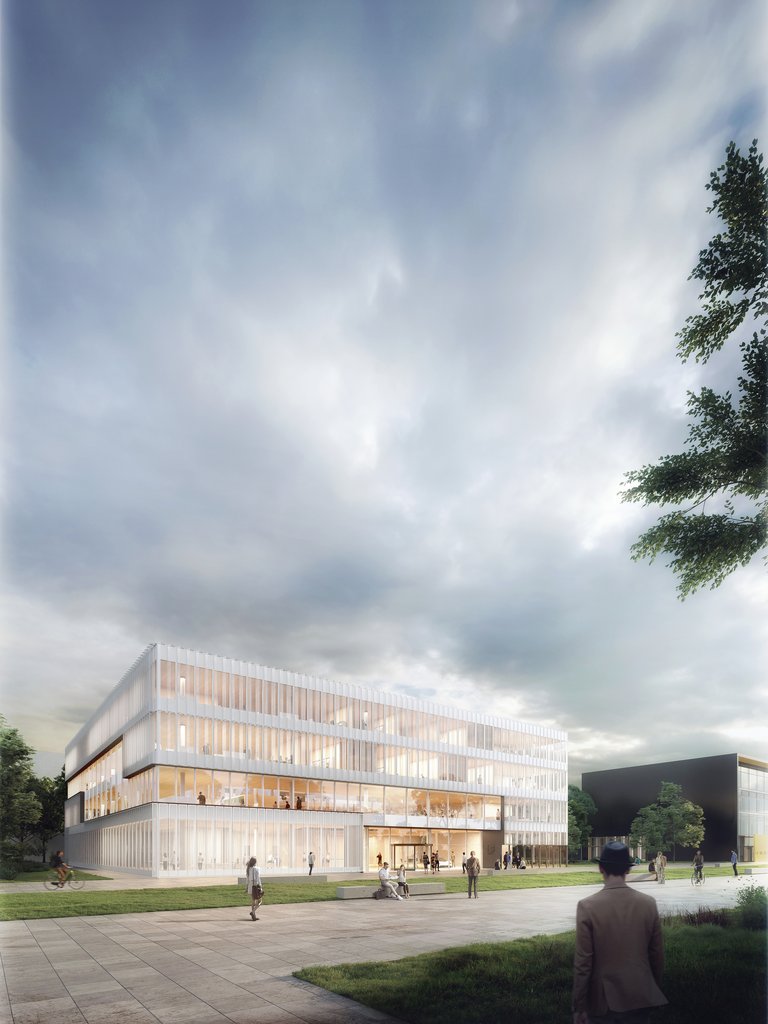 An Advanced Research Environment Inspired by the Science

The city of Garching, near Munich, has been a major destination in the German and international science and educational landscape for decades, accommodating 12,000 students and 6,000 researchers and employees. Within Garching, the Technical University of Munich campus houses numerous buildings of renowned research organizations (Fraunhofer Society, Max Planck Society, Leibniz Association, European Southern Observatory, etc.). As part of a campus expansion, the new Fraunhofer Institute for Cognitive Systems is located between the Fraunhofer Institute for Casting, Composite and Processing Technology and the Faunhofer Institute for Applied and Integrated Security and creates the entry to the northern part of the Garching research centre.
A central urban planning element of the Fraunhofer Institute is the campus green area which all buildings face and through which they are accessed. Located on the southeast corner of the green area, the Institute for Cognitive Systems entrance opens to the north, creating both a clear address and enabling optimal use of the lighting conditions for the floor plan.
| | |
| --- | --- |
| What makes that project German? | It's square - practical - good. |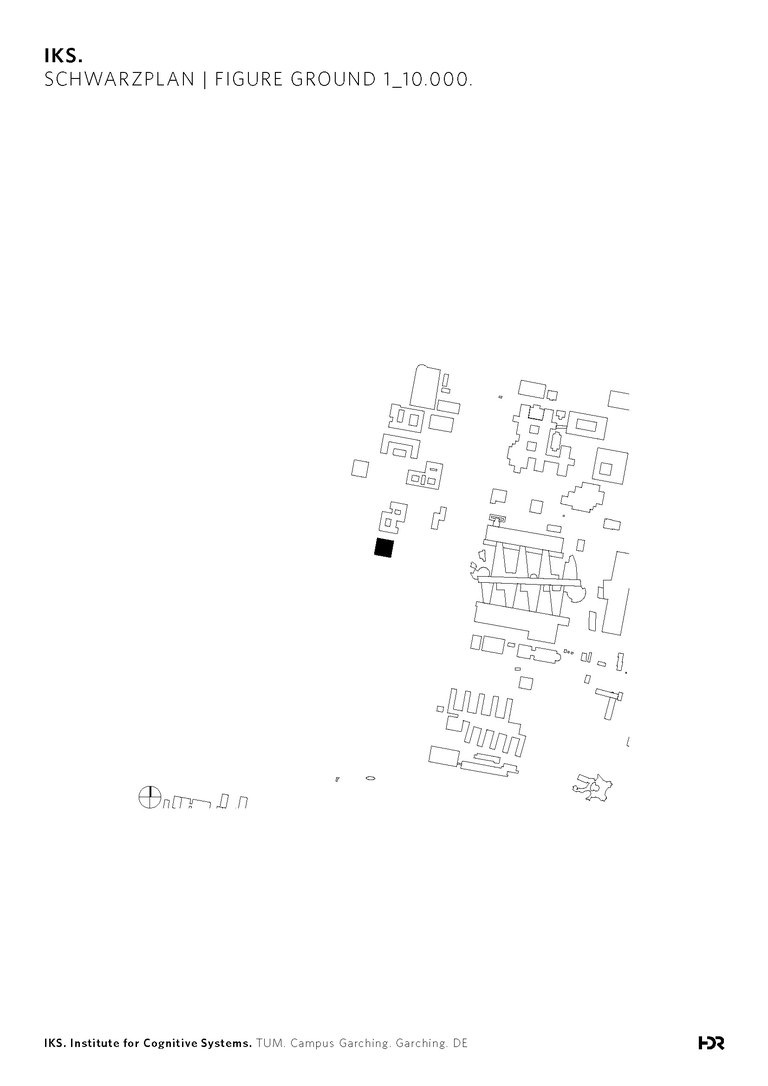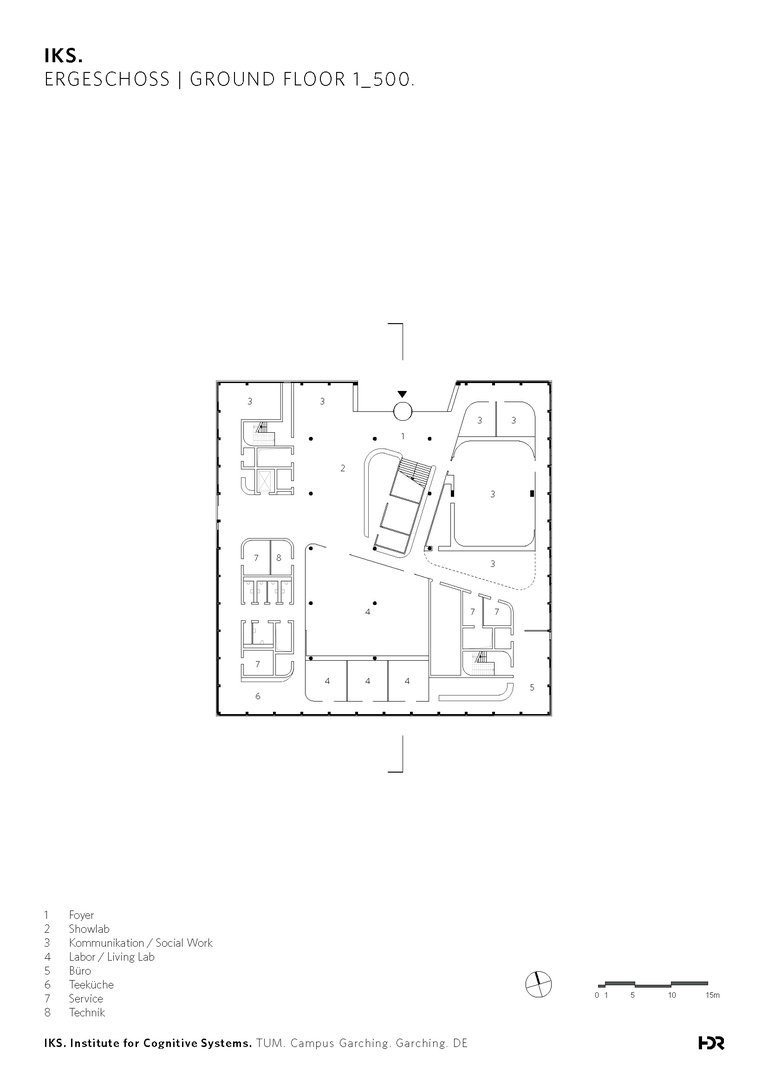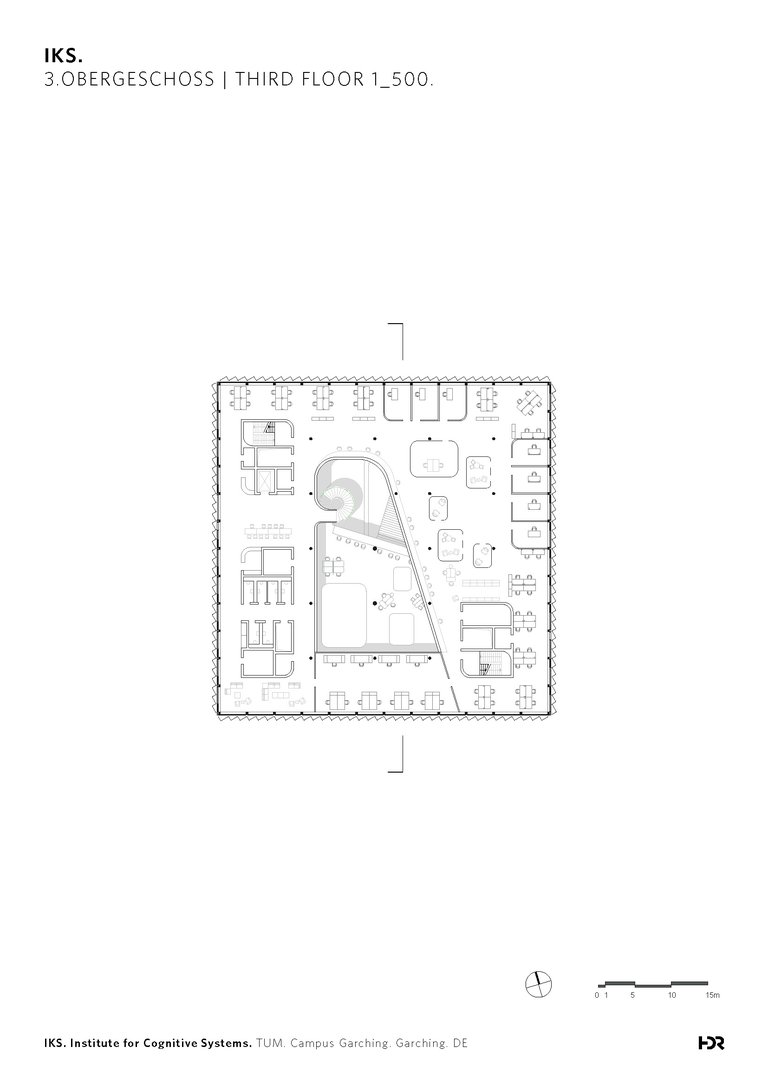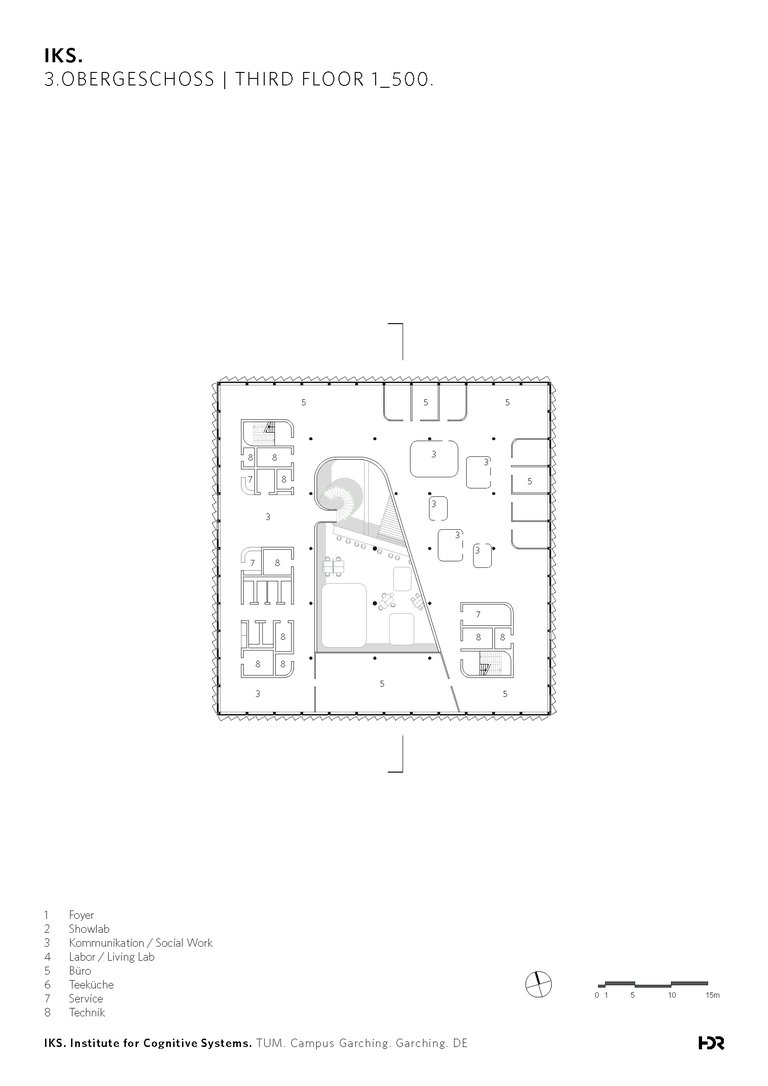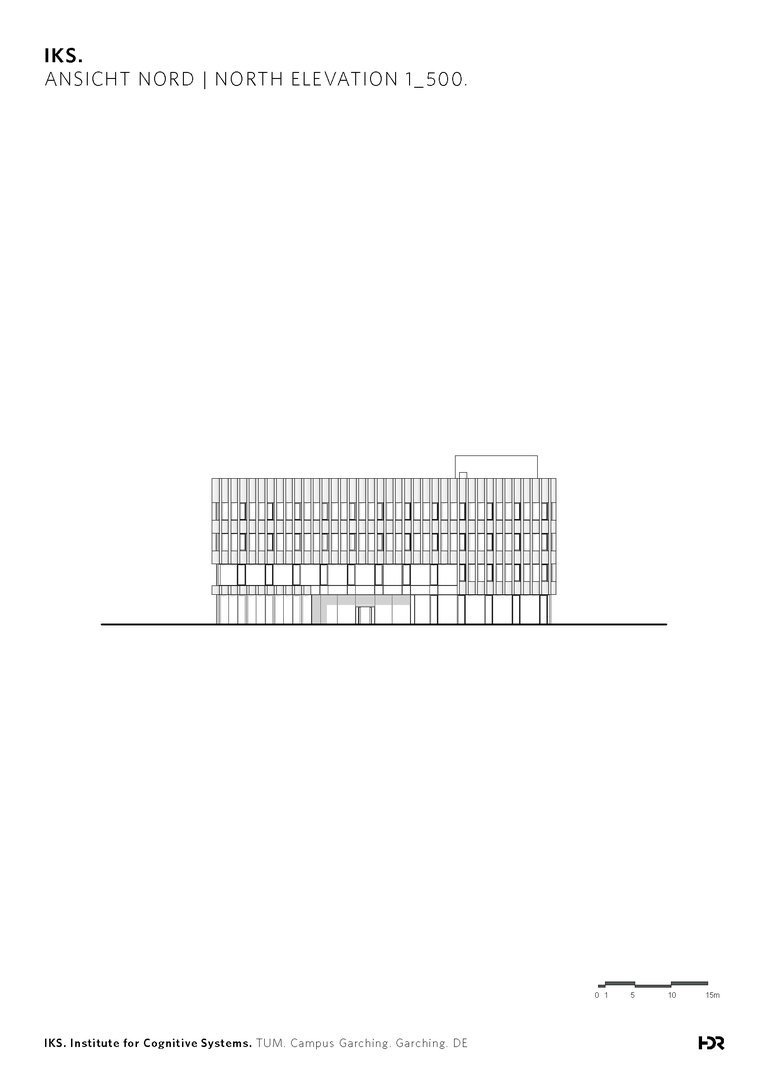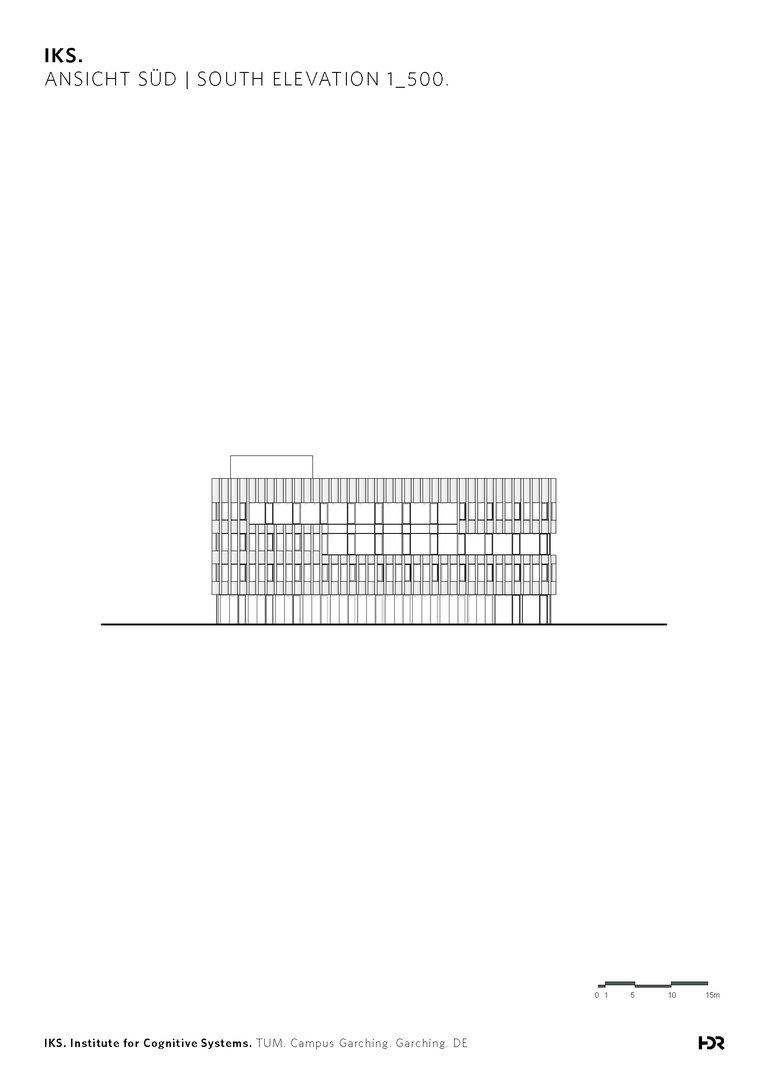 The building's functional purpose is to provide an environment that fosters the development of artificial intelligence – the ability to obtain, assimilate, and process information from various sources, in order to convert it into knowledge using a communicative spatial network that enables cognition. This function informs both the planning and the structural motif. The central element is the atrium – a place of development and communication in the spirit of Andrea Palladios. It orients the building structure, forms the connection to the green area on the ground floor and ensures internal and external networking on the floors above. At the same time, the atrium informs the spatial experience by connecting the building's various areas. Work areas are arranged around the atrium with the building core to the west as a "backbone" that also serves as a location for future expansion. Work areas include re-configurable, modular environments that offer a wide range of different spatial arrangements to encourage highly customizable experiences that set cognitive processes in motion. Networked amenity spaces include collaboration, concentration, and communication locations that promote a sense of community.
On the exterior, a light and translucent shell envelopes the building volume. Its textured façade is made of fixed perforated sheet metal fins, aligned according to the incidence of light and the direction of the compass to provide active sun protection. Open and transparent areas at the points where the atrium meets the outside of the building create a meandering appearance along the surface of the façade.
The building will be completed in 2024 and will serve the Fraunhofer Society for research in the development of reliable and safe cognitive systems.
Completion

2024

Project type

Science / Research building

Client

Fraunhofer-Gesellschaft zur Förderung der angewandten Forschung e. V.

Architects

Telluride Architektur

Planning experts

Structural planning:
bwp Burggraf + Reiminger

Facade planning:
GPLAN

HVAC planning:
Climaplan

Electrotechnical planning:
IG Technik GmbH

Outdoor facilities:
Luska Freiraum GmbH

Fire protection:
Nees Ingenieure